Bisquick chicken pot pie
The keto Bisquick chicken pot pie offers you delicious, low-carb chicken having a creamy filling and crispy pie crust.
The meal is best enjoyed with a fresh and crunchy green salad. These pot pies are suitable for warming you up during cold days.



Total Servings – 4
Prep Time – 20 minutes
Cooking Time – 20 minutes
Ingredients required for instant pot chicken pot pie
 240 ml heavy cream
 110 grams cream cheese
 60 ml chicken stock
 4 slices streaky bacon (small)
 2 celery stalks (medium and diced)
 2 chicken breasts or 4 thighs (cubed)
 2 garlic cloves



 2 tablespoons butter
 1 1/2 tablespoons parsley or thyme (dried)
 1 carrot (small and diced)
 1/2 teaspoon sea salt
 1/3 cup leek (chopped)
 1/4 teaspoon black pepper
Dough:
 170 grams mozzarella cheese (shredded)
 67 grams almond flour
 2 tablespoons cream cheese (full fat)
How to Prepare Keto keto chicken pot pie
1 – Preheat the oven to 350 0 F



2 – Place a large frying pan over medium flame and melt 1 tablespoon of butter in it. Add bacon and chicken to it and continue cooking for about 4 to 5 minutes, until completely cooked through. It will turn golden. Now, remove it from the pan and set it aside. Ensure it stays warm.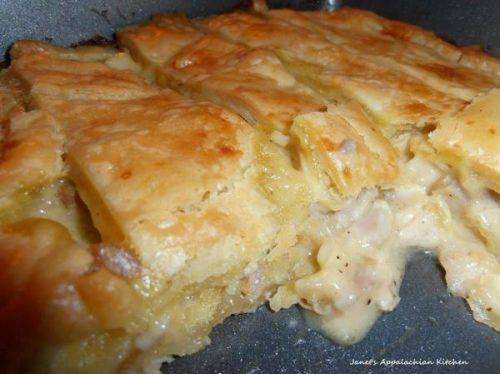 3 – In the same frying pan, melt the remaining butter and add carrot, celery, garlic, leeks, and thyme to it. Sauté for about 4 minutes, until these get tender.
4 – Next, add cream cheese, heavy cream, chicken stock, salt, and pepper to it and bring to a boil. Reduce the flame to a simmer setting and continue cooking for 1 to 2 minutes.



5 – Add the cooked bacon and chicken to the frying pan and mix thoroughly. Remove the frying pan from the heat, set it aside, and get ready to make the fathead dough.
6 – Take a microwave-safe bowl and add mozzarella cheese and cream cheese to it. Microwave at a high-heat setting for about 1 minute, followed by stirring using a spatula, and then again microwaving for another 30 seconds. Stir again using the spatula and add the almond flour quickly. Mix thoroughly to form a dough.
7 – Place the dough between 2 sheets or 1 sheet and 1 silicone mat and roll to a thickness of half a centimeter. Cut out circles from the dough using a knife and the top of the pot pie dish. Reuse scraps to form additional circles.
8 – Add the chicken mixture to the pots followed by sealing each using the circles cut from the dough. Create two small air pockets on each pot.



9 – Whisk an egg and brush each pot pie using it.
10 – Bake for about 20 minutes or until they turn golden.
11 – Serve and enjoy!
You can try lunch recipes from here:
Nutritional Information for healthy chicken pot pie:
Energy – 741 kcal
Carbohydrates – 11 grams
Fat – 62 grams
Fiber – 3 grams
Protein – 36 grams.