Cheese scone recipe this recipe was a success. The cheese scones outer is crispy and the inner is soft.
Love how quick and simple these are to make and taste so good.



Having shared with you our YouTube channel if you like our channel please; like share and subscribe to us.
https://www.youtube.com/channel/UCiGYsZu4I7g_L-2FxLMj_Ug
It is easy to make and are a perfect travel-friendly snack. Cheese scones are always a favourite!
These mary berry cheese scones are a savoury version of that treat we all enjoy so much. These savoury scones are going to be perfect in the morning. A freshly baked easy cheese scone is delicious!
Ingredients required for Keto gluten-free cheese scones:



2cups Almond Flour
¼cup Coconut Flour
2teaspoons Baking Powder
Half teaspoon salt
¼teaspoon White Pepper ground
One cup Cheddar Cheese shredded
⅓cup Ham diced



2tablespoons Chives finely chopped
Two Large Eggs
2tablespoons Salted Butter melted
How to prepare Keto best cheese scone recipe:
1    In the first step, we have to preheat ours to 160C/320F.
2   We have to line a baking sheet with parchment paper and set it aside with melted butter.
3    Take a large bowl and add almond flour, coconut flour, baking powder, salt and pepper and mix well till well combined.



4   Now we have to add the ham, cheddar, hive and mix it with a hand mixer till well combined.
5    Now add the beaten eggs and butter and make a sticky dough.
6   Now place the dough into the parchment paper and with the help of a pizza cutter cut into 12 triangles.
7   We have to carefully move each one of the triangles into the sheet.
8   Now bake it for 10-15 minutes till it looks brown in colour.



9   Allow them cool before serving. savoury scone recipe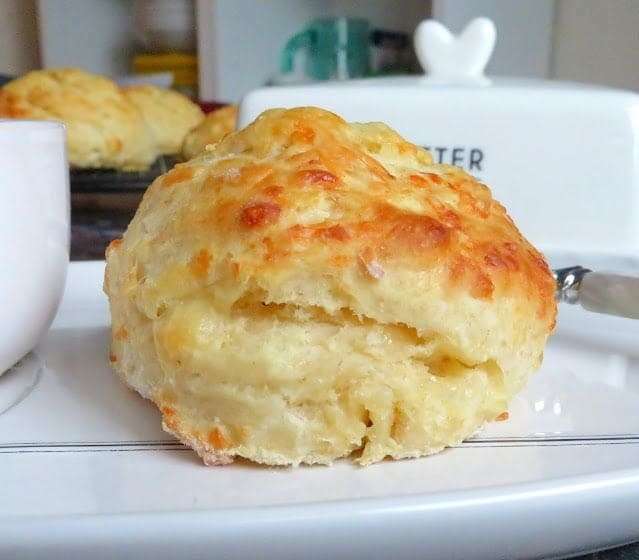 Nutritional Information for Keto Cheese Scones:
Serving: 100g | Calories: 193kcal | Carbohydrates: 5g | Protein: 9g | Fat: 16g | Saturated Fat: 5g |
Cholesterol: 48mg | Sodium: 236mg | Potassium: 99mg | Fiber: 3g | Sugar: 1g | Vitamin A: 219IU |
Vitamin C: 1mg | Calcium: 141mg | Iron: 1mg
Recipe: Keto chicken fajitas, easy chicken fajitas Taquitos recipe