Cream horns recipe. Hey guys hope you all are doing well. Today I am sharing with you a fresh keto cream horn recipe that has only 3 carbs for each cream horn mould.



We have created our YouTube channel if you like our recipes please like, share, subscribe and comment us.
https://www.youtube.com/channel/UCiGYsZu4I7g_L-2FxLMj_Ug
I am making this recipe for the third time and it is now a family hit.
This recipe is gluten-free, low carb and easy to make I hope you love this guy and I made it, especially for my children.
My whole family loved it. You can make your own homemade cream horns in less than 30 minutes!
Ingredients required for Keto Cream Horns recipe:
Crust: cream horn filling



1 3/4 cup Mozzarella cheese, shredded
2 tablespoons Cream Cheese
3/4 cup Almond Flour
1 Egg
Half tsp Stevia Powder
1/2 tsp Vanilla Extract  Swerve
1 tsp vanilla extract
 



Whipped Cream filling: cream horn pastry
1 cup heavy cream
One Tbsp Stevia or Powdered Swerve
1 tsp vanilla extract
How to prepare Keto Cream Horns recipe:
1   Preheat your oven to 200C.
2   Take a microwave bowl and add mozzarella cheese, cream cheese and almond flour and heat it for 1 minute.
3   Now in the same bowl add beaten eggs, stevia powder, vanilla extract and mix well till well combined.
4   You have to make sure the dough will be sticky.



5  Leave the dough to cool down.
6   Now divide the dough into two equal parts.
7   Roll the dough into the between of the parchment paper and with the help of a pizza cutter you have to cut strips of the dough to cover the stainless steel cream horns mould.
8   Now you have to spray each mould with non-stick cooking spray.
9   Take a baking pan and grease it with melted butter and add greased parchment paper put this mould into the baking pan.



10   Bake it for 300degrees for 10- 15 minutes or till toothpick comes out clean.
11  While the horns are baking we will make the whipped cream filling.
12  Take a large bowl and add one cup heavy cream, 1 Stevia, 1 tsp. vanilla extract and with a hand mixer or electric mixer stir well till well combined.
13  When it is done fill the piping bag with whipped cream filling.
14  Remove the horns from the oven and let it cool down.
15  Once they had cooled down we have to fill the centre with whipped cream filling.



16   You can top each horn with blueberries, strawberries or raspberries.
17  Serve and enjoy! Italian cream horns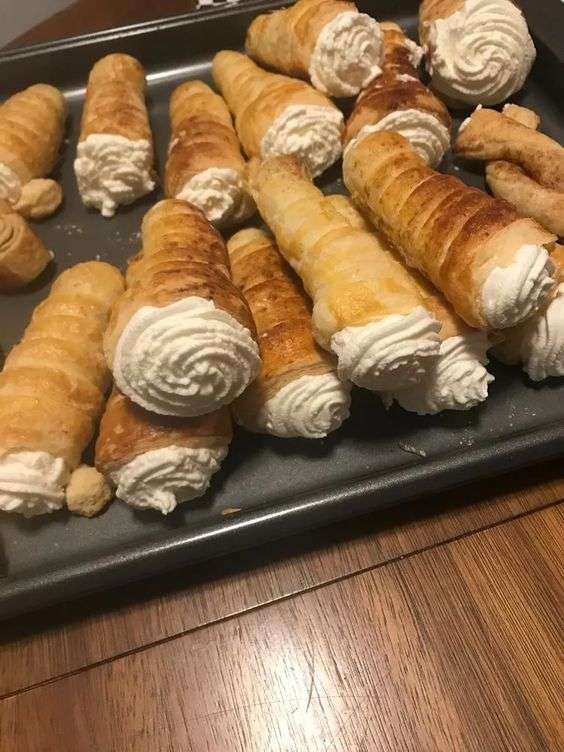 Nutritional Information for Keto Cream Horns recipe:
Amount Per Serving
Calories
107
% Daily Value*
Total Fat 8.2g
13%
Cholesterol 42.6mg
14%
Sodium 139mg
6%
Total Carbohydrate 2.1g
1%
Recipe: Sausage pinwheel recipe, Keto Sausage Pinwheels a recipe