Creamy spinach chicken bake, This recipe is a one-pot low carb dinner that is perfect for those busy weeknights!
If you are looking for an easy keto chicken dinner idea this is it.



Please subscribe and share to our YouTube channel
https://www.youtube.com/channel/UCiGYsZu4I7g_L-2FxLMj_Ug
Cheese Stromboli, Keto Cheese Stromboli fluffy & cheesy
This lunch is a restaurant-quality meal ready in 30 minutes. This keto-friendly spinach chicken uses all of the delicious ingredients and it is so simple with healthy nutritional ingredients.
It is a quick and easy meal to throw together for any late night or go-to meal on the weekend.



Ingredients required for Keto Creamy spinach Chicken Bake:
Non-stick cooking spray
1 lb. skinless chicken breasts, cubed
10 oz. fresh baby spinach
8 oz. cream cheese, softened
¾ cup shredded mozzarella cheese, divided



¼ cup sour cream
2 tsp. minced garlic or garlic paste
Salt and black pepper
How to prepare Keto Creamy spinach Chicken Bake:
1    Firstly, we have to preheat our oven to 400°F.
2   We have to take a baking dish and spray it with cooking spray.
3    We have to spread out the chicken in the dish and top with spinach to make sure it flat as possible.



4    Take a bowl and add cream cheese, 1/4 cup of mozzarella, sour cream, garlic and add salt and pepper according to taste.
5    With the help of a spoon top the mixture over the spinach.
6    Cover it with foil paper and bake it for 10 minutes.
7    After 10 minutes remove the baking dish from the oven, uncover it and top with half a cup of mozzarella cheese.
8   Now bake it for another 5 to 10 minutes till the chicken has cooked well.



9   Remove from the oven and serve on a plate and enjoy!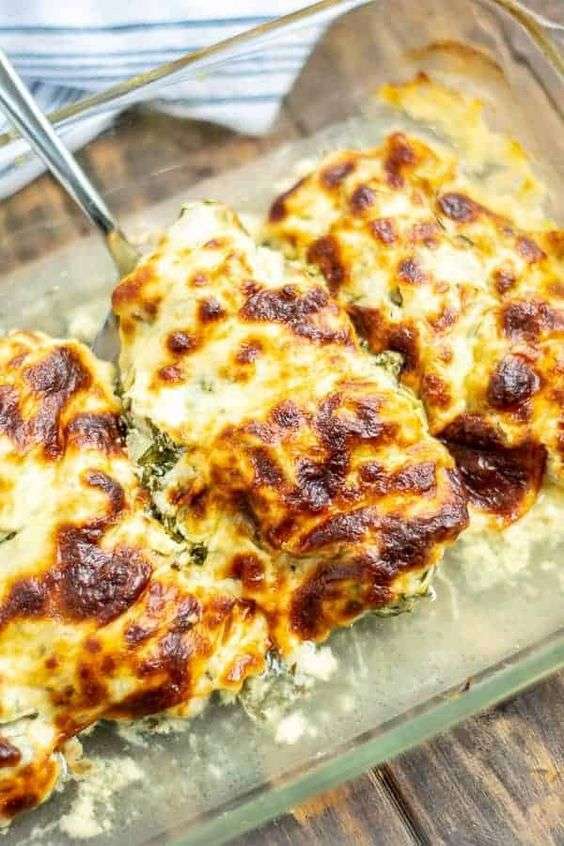 Nutritional Information for Keto Creamy spinach Chicken Bake:
 Amount per Serving
Calories491
Total Fat31g
Carbohydrates6g
Net Carbohydrates4g
Fiber2g
Protein46g
Recipe Keto chicken fajitas, easy chicken fajitas Taquitos recipe