homemade chicken alfredo pizza
The low-carb homemade chicken alfredo pizza combines a low-carb fathead crust with creamy cheese. we got Low-Carb, Keto Popsicles, or KETO CHEESECAKE FLUFF  It is a fitting recipe for a delicious Sunday breakfast or a fulfilling weeknight meal. This chicken alfredo pizza recipe scrumptious gluten-free meal the whole family will love.



Ingredients required for Low Carb Chicken Alfredo Pizza
Total Servings – 8
Prep Time – 15 minutes
Cooking Time – 20 minutes
Crust:
● 2 cups mozzarella (shredded)
● 2 tablespoons cream cheese
● 1 egg
● 3/4 cup almond flour



Alfredo Sauce:
● 28 grams cream cheese
● 2 tablespoons butter
● 1/3 cup heavy whipping cream
● 1/4 cup Parmesan (shredded)
● 1 garlic clove (minced)
chicken alfredo pizza toppings
● 2 cups mozzarella
● 1 cup chicken (cooked and cut into small cubes)
● 1/4 cup spinach (chopped)
How to Prepare keto chicken alfredo pizza
Crust:
1 – Preheat the microwave to 425 0 F.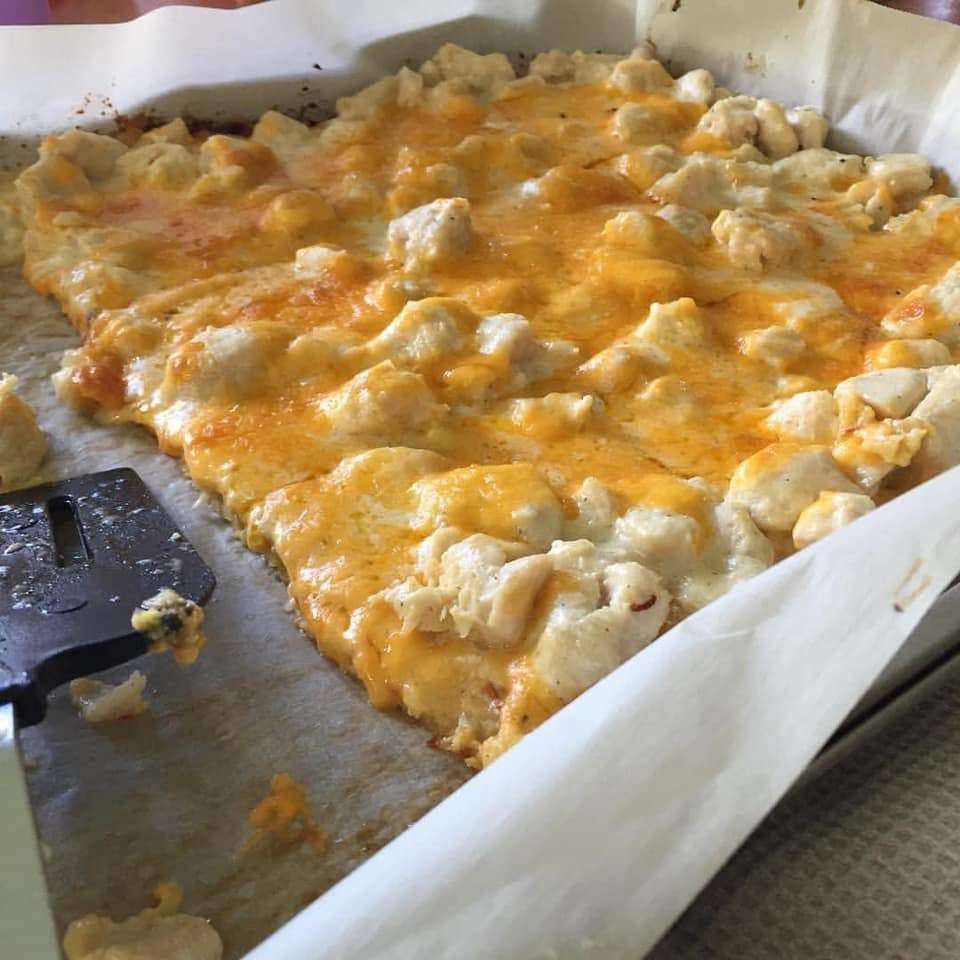 2 – Combine cream cheese and mozzarella in a microwave-safe bowl and microwave for about 1 minute. Take out and stir. Microwave again for about 30 seconds or until the cheese melts completely.
3 – Add almond flour and egg to the mixture while stirring continuously. Form a dough.
4 – Put the dough on a big sheet of parchment paper and cover it with a second one.
5 – Roll the dough to form a circle shape with a 12-inch diameter.
6 – Remove the upper parchment paper and place the dough along with the lower parchment paper into a pizza pan.
7 – Bake for about 10 minutes or until the crust is lightly golden.
Alfredo Sauce:
1 – Add butter, cream cheese, garlic, and heavy whipping cream to a saucepan and place it over a medium flame. Keep heating until the butter and cream cheese melts completely.



2 – Keep stirring in the Parmesan cheese until the sauce gets creamy and smooth- running.
Assembling:
1 – Uniformly spread the Alfredo sauce over the pizza crust.
2 – Top with 1 + 1/2 cup mozzarella.
3 – Add the chicken and the spinach and top it off with the remaining 1/2 cup of mozzarella.
4 – Bake in the oven for 10 minutes. Allow it to cool for about 2 minutes.
5 – Divide into 8 equal parts. Serve and enjoy!



Note:
● You can prepare the alfredo sauce while waiting for the pizza crust to be baked.
Nutritional Information for Low Carb pizza hut tuscani chicken alfredo
Energy – 351 kcal, Carbohydrates – 6 grams, Fat – 28 grams, Fiber – 1 gram, Protein – 20 grams
Next recipe Keto Cheese Meatballs low carb recipes
Please share your views, comments, remarks, suggestions, et cetera via the dedicated
comments window below.