Hot Pocket Philly cheese,  I tried a Philly cheesesteak recipe which was delicious too. Homemade dough and filing this is a winner. Have you tried our Philly cheesesteak pocket yet? Share this recipe with your friends.



https://www.youtube.com/channel/UCiGYsZu4I7g_L-2FxLMj_Ug
This is our YouTube channel link. In this channel, you will get more delicious videos on food.
Please like, share, comment and subscribe to our YouTube channel. Please support us so that we can make amazing recipes for you.
Ingredients required for Keto Philly cheesesteak Pockets:
    1 fathead dough



    1 tbsp. of grass-fed butter or other healthy fat
   Half Yellow Onion, sliced thinly
   3 red baby bell peppers, sliced thinly
   1 jalapeno, sliced thinly (optional)
  5 tbsps. Onion salt
   1/2 tsp. natural ancient sea salt
   One tsp. dried parsley
   1/2 tsp. black pepper



   1 lb. Shaved Steak
  5 slices White American Cheese
Sriracha Mayo Sauce
   1/2 tbsps. Lime Juice
   2 tbsps. No sugar added ketchup
   1 tbsp. sriracha sauce
   1 tbsp. mayonnaise
How to prepare Keto Hot Pocket Philly cheese:
1    Firstly we have to prepare the fathead dough. We have to divide the dough into 8 balls.



2    Take two pieces of parchment paper and take one ball and roll the dough into between of parchment paper into a circle shape.
3    Now we have to chop the shaved meat into thinly sliced also in bite-sized pieces.
4    Take a large skillet over medium-high heat adds the butter and then add chopped onions and peppers and sauté the vegetables until they are soft and fried.
5    Now we have to add the shaved beef and add the spices and sauté well.
6    Now turn off the heat and add the American cheese on the top.



7    Cover the skillet till cheese is melted.
8    Now divide the mixture into 8 rolled circles.
9    Now carefully fold the dough and we have to seal each pocket and seal the edges properly.
10   Take a pan over medium-high heat and add oil.
11   When heated up the oil we have to fry the pockets from both sides.
12   To make the sauce whisk the ingredients with a fork.



13   Before serving top the pockets with sauce.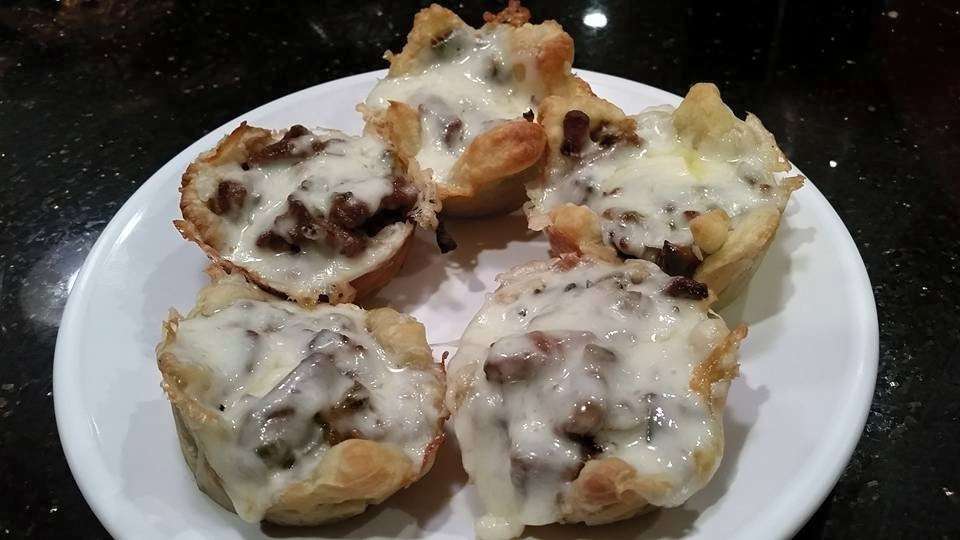 Nutritional Information for Keto Philly cheesesteak Pockets:
Calories: 314kcal | Carbohydrates: 5g | Protein: 23g | Fat: 22g | Saturated Fat: 8g | Polyunsaturated Fat: 0g | Monounsaturated Fat: 0g | Trans Fat: 0g | Cholesterol: 96mg | Sodium: 2566mg | Potassium: 243mg | Fiber: 1g | Sugar: 1g | Vitamin A: 785IU | Vitamin C: 17.5mg | Calcium: 295mg | Iron: 1.7mg
Recipe Keto Dessert Recipes That Will Make You Forget You're On A Diet