keto bacon-wrapped shrimp. A keto-friendly option! People ask me if my way of eating is boring. Not really! There are always ways to spice it up with a little change like the bacon-wrapped shrimp recipe and this spicy dried meat.



There are so many ways to enjoy low carb shrimp and bacon recipes in keto. This recipe is the perfect bacon shrimp air fryer for the weekend. It is easy and hits the spot each time. These bacon-wrapped shrimp with cheese makes the best appetizer for your holiday gatherings. I hope everyone enjoys this week's meals just a lot.
My sweet, sticky, savoury, with kick bacon-wrapped shrimp in the oven, is one recipe everyone will rave about! It has just 1.5g net carbs per serving. We have created our YouTube channel also if you like our recipes please do share and subscribe to us:
https://www.youtube.com/channel/UCiGYsZu4I7g_L-2FxLMj_Ug



Course: Appetizer, dinner, lunch
 Cuisine: American, Keto, Paleo, Whole30
 Prep Time- 10 minutes
 Cook Time- 12 minutes
 Total Time- 22 minutes
 Servings-4 baked bacon wrapped shrimp
Ingredients required for air fryer bacon-wrapped shrimp:
1 lb. (450g) extra-large raw shrimp – peeled, deveined, tail on
Sea salt and pepper – to taste



1/4 tsp. chilli powder
1/4 tsp. cayenne pepper
One tsp. smoked paprika
1 Tbsp. fresh lemon juice
1 Tbsp. olive oil
6-8 very thin slices of bacon – (about 12 oz. / 340g)
Keto white Sauce: stuffed bacon wrapped shrimp
1 cup (240ml) mayonnaise
1 Tbsp. Dijon mustard



2 tsp. prepared horseradish
2 tbsps. apple cider vinegar
1 tsp. garlic powder
Sea salt and pepper – to taste
How to prepare keto bacon wrapped shrimp
1    Firstly, preheat your oven to 200C and put on parchment paper on baking tray and grease with melted butter.
2    Secondly, take a large bowl and add raw shrimp to it and sprinkle with seasonings. Add olive oil, lemon juice and gently coat on it.



3   Now we have to cut the bacon strips in half and wrap each shrimp with one bacon slice.
4   You have to insert a toothpick through bacon.
5    Now put these shrimp into the baking sheet and roast the bacon-wrapped shrimp for around              10- 12 minutes. After 5 minutes flip it to another side.
6    However, combine all the sauce ingredients into the bowl and whisk together till well combined.
7    Refrigerate it for 10-15 minutes to set it aside.
8    Once shrimp cook well moves it into a serving plate.



9     Serve delicious shrimp with keto sauce.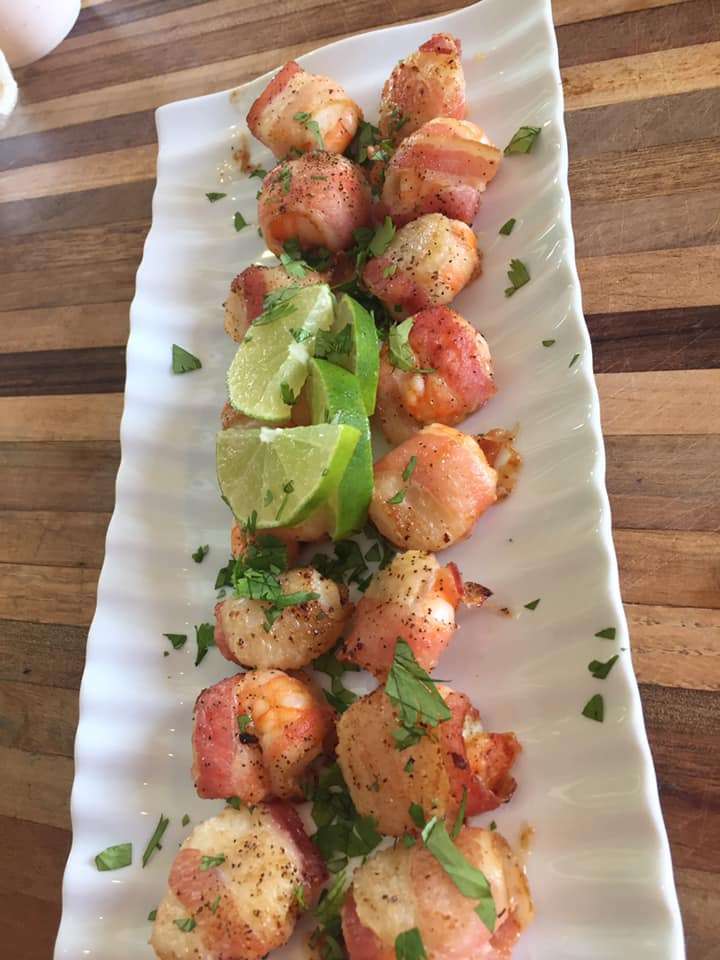 Nutritional Information for shrimp bacon recipes
Calories: 891kcal ,Carbohydrates: 3g, Protein: 35,Fat: 81g,Saturated Fat: 19g,Trans Fat: 1g
Cholesterol: 365mg,Sodium: 1876mg,Potassium: 316mg,Fiber: 1g,Sugar: 1g,Vitamin A: 406IU
Vitamin C: 7mg,Calcium: 180mg,Iron: 3mg
Next recipe keto bhatura- keto bhature easy homemade delicious recipe