Bagels are delicious but high on carbs. So, there is no point in adding them to your keto genicdiet plan, unless, you can cut the carbs somehow. Interestingly, doing so is much simpler than what you think; simply substitute the bread flour with the almond flour! Now, if the ketogenic bagels only contain almond flour and eggs then they turn out to be too brittle and not so delectable.
The keto bagel egg rolls recipe requires a mere 20 minutes of cooking time. So, you can prepare these fulfilling low-carb bagel egg rolls even when you have less time to spare.
Ingredients required
Total Servings – 8
Prep Time – 15 minutes
Cooking Time – 20 minutes
 57 grams cream cheese
 3 cup mozzarella cheese (shredded)
 3 tablespoons everything bagel seasoning
 2 cup almond flour
 2 eggs (large)
 1 egg (large and lightly beaten)
 1 tablespoon baking powder
Note:
 You can prepare your own everything bagel seasoning by thoroughly mixing poppy
seeds, powdered garlic, and powdered onion.
How to Prepare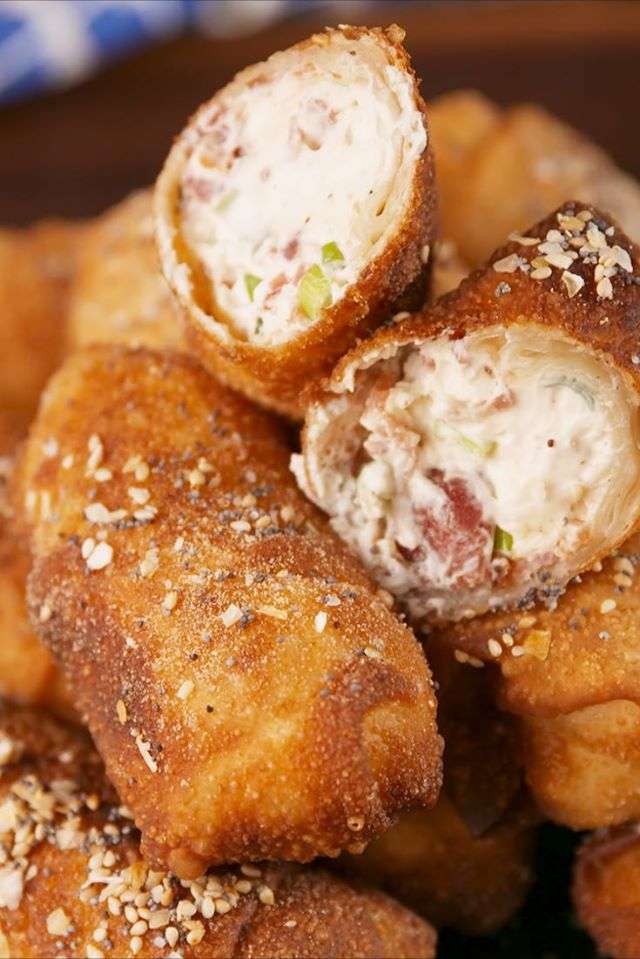 1 – Set the oven to 400 0 F and line 2 rimmed baking sheets with parchment paper.
2 – Take a large bowl and thoroughly mix almond flour and baking powder in it.
3 – Take a medium-size, microwave-safe bowl and add mozzarella cheese and cream cheese in it. Microwave the same for 2
minutes or until the cheese melts and combinesm completely while stirring the mixture every 30 seconds.
4 – Add the cheese mixture and 2 eggs to the bowl containing the almond flour mixture and combine thoroughly to form a dough.
5 – Make 8 equal divisions of the dough and roll each into a ball.
6 – Place your finger into the center of each dough ball and stretch the same to form a bagel-like shape. Place them on the baking sheets.
7 – Grease each bagel with the beaten egg and sprinkle a little everything bagel seasoning.
8 – Bake the bagel egg rolls for about 20 to 25 minutes or up until the point when they turn golden brown.
9 – Let the bagel egg rolls cool for about 10 minutes at room temperature prior to serving.
Nutritional Information for Keto Bagel Egg Rolls
Energy – 345 kcal
Carbohydrates – 7 grams
Fat – 17grams
Fiber – 3 grams
Protein – 18 grams