Keto Balsamic garlic grilled mushroom skewers?



If we grill the flavored veggies, it will look great. In general, the smokiness and the caramelization from grilling bring out the
flavors veggies which make them really better. It is really easy to throw veggies on the grill but you can bop them up with the flavors and skewering it up makes it nicer and quick portable finger food.
Mushrooms are really good and they just happen to be really amazing when grilled. This dish is perfect for some get-togethers. You just actually need to perform is to marinate the mushrooms in a simple and tasty balsamic garlic marinade, skewered them up and grill them.
First of all, you need to grill up the garlic Balsamic mushrooms skewers which you soaked in the delicious balsamic marinade.
What are the ingredients you need?
· 2 lbs cremini mushrooms which are sliced 1/4th inch thick
· 2 teaspoon balsamic vinegar
· 1 teaspoon coconut aminos
· 2 minced garlic cloves
· The salt according to taste
· 1 teaspoon chopped fresh parsley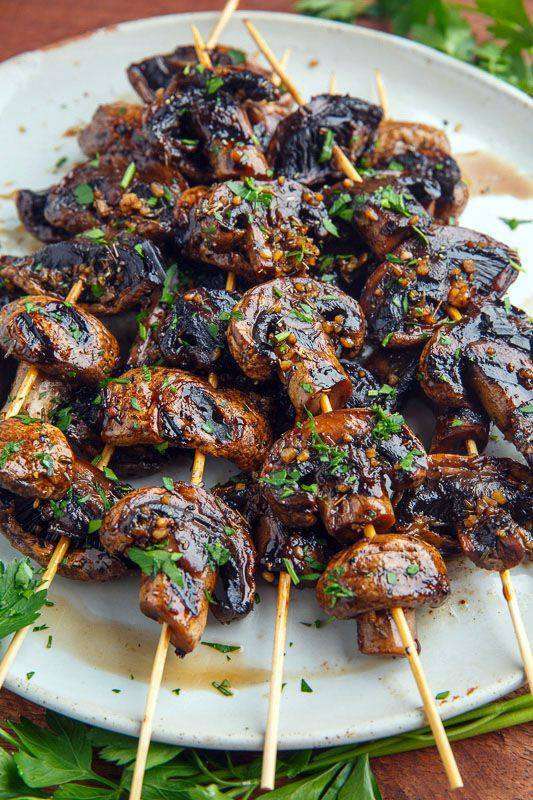 What are the instructions you need to follow?
· In a bowl, you need to combine the balsamic vinegar, coconut aminos, minced garlic as well as salt. You need to mix it well.
· Now, you need to add the sliced mushrooms with the marinade and let them soak for at least 30 minutes.
· When the mushrooms are marinating, then soak the wooden skewers in the water.
· When fully ready, you need to heat the grill to the medium heat and thread the marinated mushrooms on to the skewers. Now, you  need to place them in a single layer on to the grill and get them to cook until tender (approx 2-3 minutes each side). Set the leftover    marinade aside.
· Now, place the cooked mushroom skewers on a serving platter, drizzle with the reserved marinade as well as sprinkle it with fresh  chopped parsley.
· Serve and enjoy the dish.
Let us know about its nutrition facts:
It provides 62-gram calories, 0.8-gram fat (saturated 0, trans 0). 0-grams cholesterol, 233-mg sodium, 9-gram carbs (2-gram
fiber and 5-gram sugar), 7-gram protein.
Always look for these balsamic garlic grilled mushroom skewers
when thinking of having tasty appetizers.