Keto chicken fajitas. For a chicken fajita, low carb snack or dinner try these keto Chicken fajitas Taquitos!
Today I am sharing with you YouTube channel keto recipes low carb food if you like our channel please like, share and subscribe to us.



https://www.youtube.com/channel/UCiGYsZu4I7g_L-2FxLMj_Ug
This recipe is packed with chicken and vegetables and come to just 1.3 net carbs per serving!
These things are amazing! It is simple, delicious and healthy preparation.
If you love chicken fajitas but are following a keto or low carb diet, I have got the perfect alternative for you this low carb chicken fajita recipe!
It is an easy, healthy dinner the whole family loves.
I made this over the weekend and it is the bomb!



Ingredients required for Keto chicken fajita recipe Taquitos:
Cheese Slices: Colby Jack Cheese
Chicken: Any variety of cooked chicken including rotisserie or leftover grilled or baked chicken
Bell Pepper: Sautéed or grilled peppers
Onion: Sautéed or grilled onions
Hot Sauce
Lime Juice



Spices: cumin, salt and pepper
How to prepare Keto chicken fajitas Taquitos:
1   Take a bowl and add chicken, bell pepper, onion, hot sauce, lime juice and spices and mix well till well combined.
2   Now preheat your oven to 350 degrees and take a baking sheet and add a silicone baking mat.
3    Now put cheese slices on the top of the silicone baking sheet mat and bake it for 5 to 7 minutes only.
4    When the cheese turns browned or bubbly remove it from the oven and let them cool.



5     Now we have to place the fajita mixture into the edge of one slice and tightly roll them up.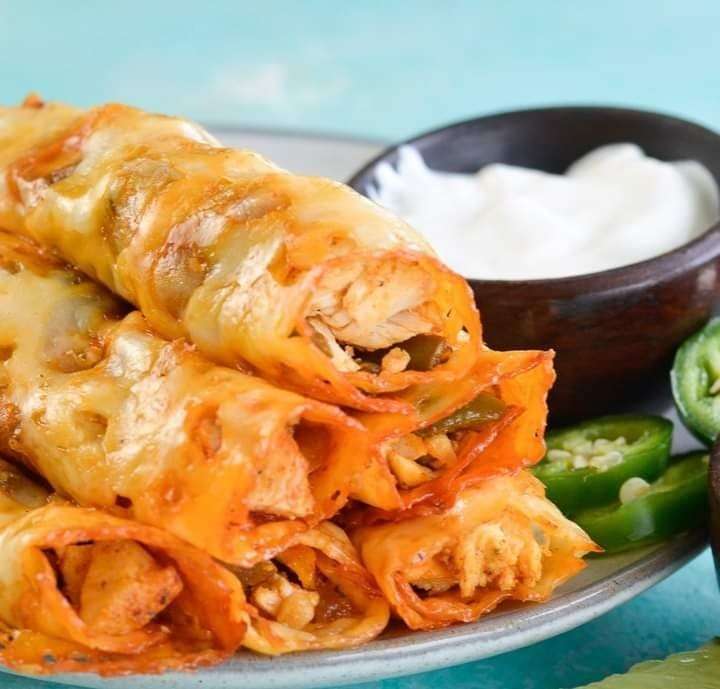 Nutritional Information for Keto easy chicken fajitas Taquitos:
Amount per Serving: 
CALORIES: 354
TOTAL FAT: 21g
CHOLESTEROL: 142mg



SODIUM: 732mg
CARBOHYDRATES: 1.7g
NET CARBOHYDRATES: 1.3g
FIBER: 0.4g
SUGAR: 0.9g
PROTEIN: 27g
Recipe: Cream horns recipe, Keto Cream Horns homemade recipe