Keto Cinnamon Donuts are the most soft and pillowy low carb donuts that are perfect for the breakfast or anytime when you crave for classic cinnamon donut. This is the most easy recipe to make without need of any mixer. Most of all, it is Paleo, sugar free, grain free as well as gluten free.



Ingredients required to make Keto Cinnamon Donuts:
· 2 large eggs of room temperature
· One fourth cup of unsweetened almond milk
· One fourth teaspoon of apple cider vinegar
· 1 teaspoon of vanilla extract
· 2 tablespoons of melted ghee or butter if not using Paleo
· 1/4th cup of granulated monkfruit sweetener or one can also use SWERVE
· 1 cup of super fine whitened almond flour
· Half tablespoon of coconut flour
· 1/4 teaspoon of xanthan gum
· 1 teaspoon of ground cinnamon
· 1 and a half teaspoon baking powder
· Half teaspoon baking soda
· 1/8 fine sea salt
· Mini Donut Pan



Topping choices:
1. For the cinnamon sugar coating:
· 1/4th cup of granulated monkfruit. One can also use granulated erythritol or SWERVE
· 1 teaspoon of ground cinnamon
· One and a half tablespoon melted ghee or butter if not paleo
2. For the chocolate glaze:
· 2 ounces of melted no sugar dark chocolate
· 1 teaspoon of melted coconut oil
· 1 teaspoon of powdered monkfruit sweetener
How to make Keto Cinnamon Donut?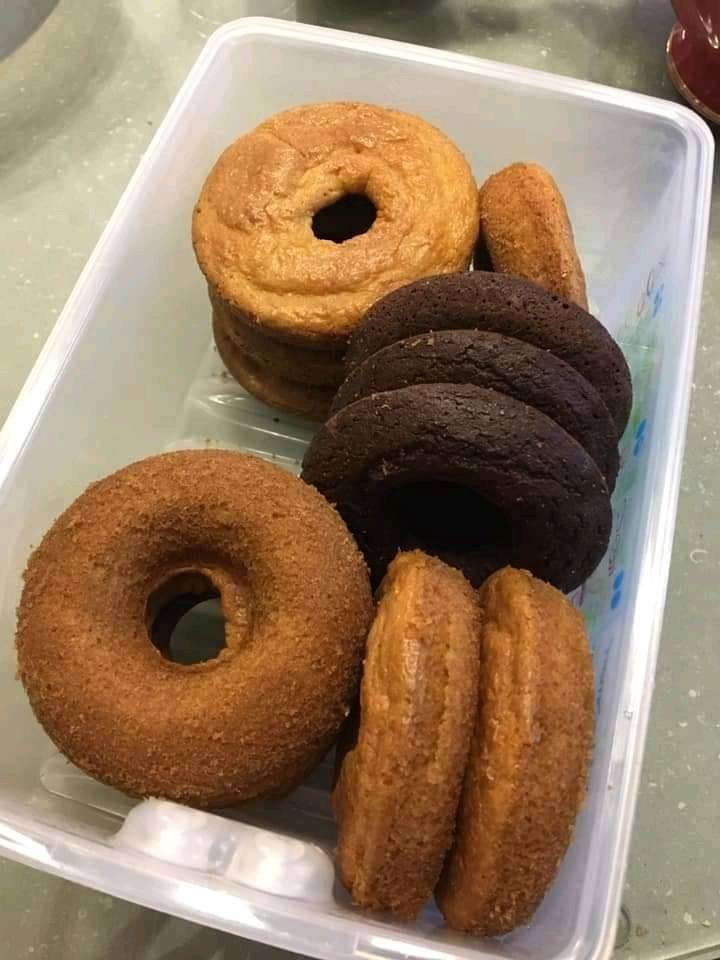 1 Take a large bowl and whisk together the eggs, almond milk, apple cider vinegar, melted ghee and the monkfruit seetener until it gets smooth and combined well.
2 Now, take a separate medium bowl and combine the almond flour, cocnut flour, xanthan gum, cinnamon, baking powder, baking soda as well as salt. You can now slowly add the entire dry ingredients to the wet ingredients and stirr it until it gets combined well.



3 Now, move the batter into the greased 12 cavity silicone mini donut pan or you can also drop them into the mini muffin tins. You can even use a 6 cavity silicone donut pan for the regular- sized donuts.
4 Now, you need to bake it in the preheated oven at 350 F for about 12-15 minutes (for mini) or 21-24 minutes (for regular sized) until it gets golden brown in color. You can now remove the pan from the oven and set it aside until the donuts are that cool enough tohandle. Adding Cinnamon Coating:
5 While the donuts are getting baked, you can stir together the granulated sweetener and cinnamon in a small bowl. Take a small separate heat safe bowl and melt ghee into it.
6 Now, pick every cooled donut and lightly dunk it in melted ghee and then, roll it into the cinnamn/sweetener coating.
You can repeat it with the remaining donuts. Adding chocolate glaze:



1. You can now add the chopped chocolate and coconut oil to the small heat-safe bowl and melt in the microwave. You need to stirr it in the sweetner until it gets properly combined. Now, you can dip the cooled donuts into the chocolate and place it in the fridge until the chocolate coating get set.
Nutritional Information of Keto Donuts:
It provides you 86 grams of calories, 8 grams of Fat, 2 grams of saturated Fat, 2 grams of carbohydrates and 2 grams of Protein.