Keto Cream Puff Pastry. Look at my keto flaky puff pastry! It is get better all the time. It is a little amazing. This is a popular Indian snack made keto by using keto-friendly ingredients to make a flaky puff pastry cover for hard-boiled eggs with spices.
Like our YouTube channel and subscribe to us to get more delicious videos on our YouTube channel. Keep supporting us guys.



https://www.youtube.com/channel/UCiGYsZu4I7g_L-2FxLMj_Ug
This recipe is crispy, flaky, buttery puff pastry is just what you need. This recipe is sugar-free and diabetic-friendly treat you will surely not get enough of!
It is the perfect dessert, just add the filling. It is perfect keto flaky puff pastry is one of my favourite holiday appetizers!
Ingredients required for Keto Cream Puff Pastry
Vital Wheat Gluten Version
5 tbsp. psyllium husks 26g
¼ cup almond flour 30g
One tbsp. coconut flour 7g
¼ tsp. baking powder
1 tsp. xanthan gum



1/8 tsp. salt
125 g butter cold
Half cup cold water
1 egg white
How to prepare Keto Cream Puff Pastry
1  In the first step add your dry ingredients to a blender or blend till it becomes smooth powder.
2  Now add butter chunks into the blender make sure you have to add small pieces of butter chunks and stir well.



3  Now put this mixture into the bowl and then add cold water and then add egg whites.
4  With the help of a spoon stir well this mixture till a dough forms.
5  Now with your hands make a ball of the dough and wrap it with a paper towel and keep it in the refrigerator for 30 minutes.
6  After 30 minutes unwrap your dough and roll it into the between of the parchment paper.



7  Now from the inward roll each side of the dough and then roll it out flat and press down the folded layers you just made.
8  One more time fold each side inwards and then roll it out flat. Do repeat this process 4-5 times to make sure a layer of butter is spread throughout the dough.
9  Little bit push the edges and repeat the process till it looks more uniform.
10 Now keep this wrap in the refrigerator for 30 minutes.
11  Preheat your oven to 200C.
12  Now roll the dough and brush with egg whites mixture on each side and put the wrap into the greased baking dish.



13  Now bake this for 15 to 20 minutes and enjoy your super delicious keto flaky puff pastry.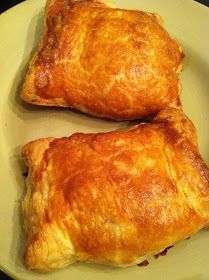 Nutritional Information for Keto Cream Puff Pastry:
Serving: 1 |
Calories: 116kcal |
Carbohydrates: 0.5g |
Protein: 6g |
Fat: 10g
Recipe: Muffin quiche recipe, Keto Crustless Quiche Cups recipe: