The cordon bleu is a delicate stuffed chicken recipe. It is crispy outside and will feel juicy inside. We will use bacon to wrap it around the chicken breast which has been stuffed with the ham and the cheese inside.



What do you need?
· Six boneless, skinless chicken breast halves
· Six thin slices of your favorite cheese
· Six thin slices of krto  black forest ham
· Four tablespoons butter
· Two tablespoons chopped up chives
· Twelve slices of bacon
· One by four cup almond flour
· One tablespoon keto salt pepper to taste
· One cup keto bread crumbs, Panko is the more preferable one as it is more crispy in nature.
· Two eggs
· Two teaspoons water
· Four tablespoons olive oil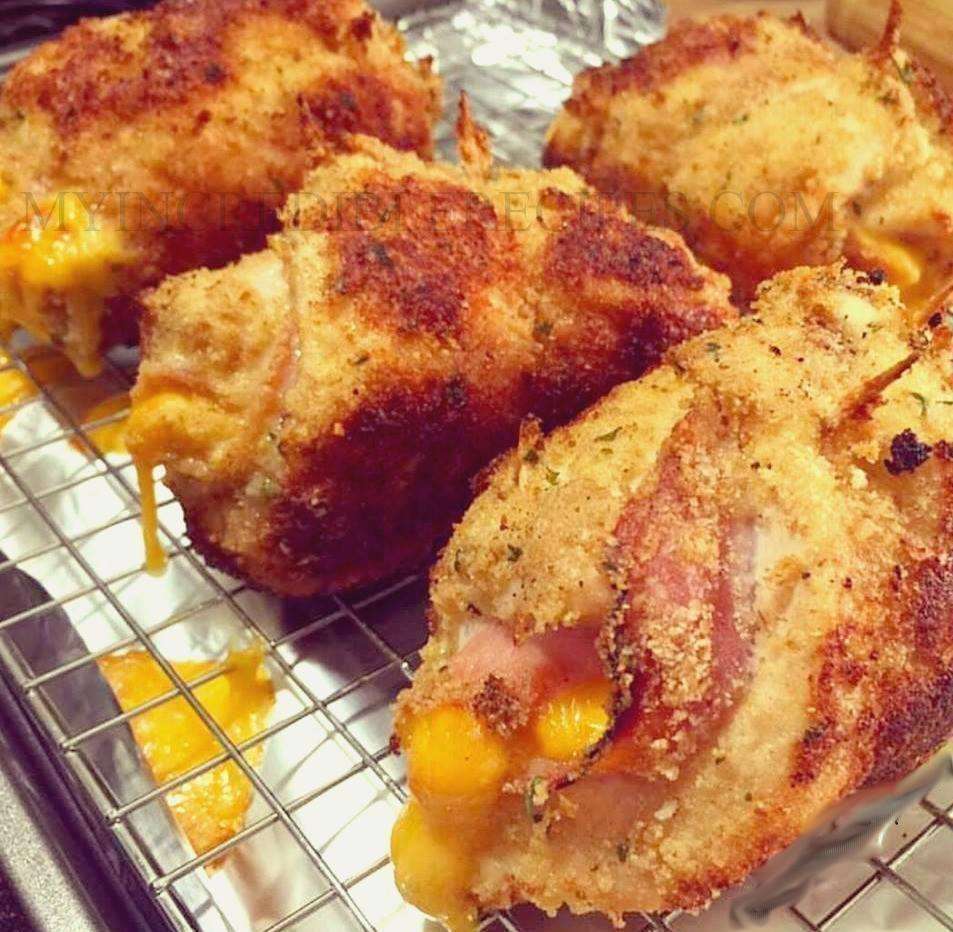 How to make it?
· On a medium skillet, you need to fry the bacon slices and when it gets crisp, put them aside.
· Wash the chicken breasts and pat them to dry
· Lie all the dry pieces in front of you and use the few pieces of clear plastic wrap and softly pound every piece so that they can  make 1/4 in the thickness. Be careful that you won't tear it.
· Once they all get pounded at 1/4 thickness, you need to place a cheese as well as ham slice on each chicken breast. Now, top it with the 2 slices of cooked bacon each.
· Now, you just need to tightly roll each chicken breast over the cheese, bacon as well as ham and then, secure each wrap with the toothpicks, recommendable.
· Now, take out the flour and season well with the salt and the pepper. Set in aside.



· Now, again you need to mix the keto bread crumbs as well as chives together in the flat dish. Season it with the salt and pepper. Now,  make it aside.
· In another bowl, mix eggs and water together.
· Now, organize all the 3 dishes next to the stove top where the chicken would be frying for the easy access.
· Now, heat the butter as well as olive oil over the medium-high heat.
· Coat the chicken wrap with the flour mixture very lightly and then dip into the egg mixture.
· Coat each roll in the bread crumbs gently and place it in the pan to fry.
· Cook till the time when chicken gets browned on all the sides and the juices run clear.
· Transfer the breasts to the serving plate. Remove the toothpicks if you have used it earlier.
· Enjoy the dish.



Nutritional information:
It produces 356 kcal calories, 19.3-grams fat, 1.5-gram net carb including 1.7-gram total carbs and 0.2-gram dietary fiber. It gives 42.5-grams protein.