Keto Fried Onion Rings. Make the most amazing Baked Keto Onion Rings with simple ingredients.
I am sure you will love eating these this summer. These Onion Rings On Keto Diet strings are super easy and very crispy, and they are addictively good.
These crispy Low Carb Baked Onion Rings are the better snack appetizer and party food that you will ever make.
It's a low-carb and healthy Best Keto Onion Rings snack that everyone will love!
These are the best onion rings I have ever tasted! You have got to try these. It tastes as good as they look!
You get a kick in every bite. You will be amazed at how much like the "real thing" these Keto the onion ring is.
Total Servings – 3
Prep Time – 20 to 25 minutes
Cooking Time – 10 minutes
Course: Appetizer
Cuisine: American
Ingredients required for the Keto Fried Onion Rings use my secret ingredient – whey protein isolate.
  1.    1 large sweet onion cut into rings 
  2   One cup Almond Flour
  3   1 cup grated Parmesan cheese

4   One tablespoon Baking Powder
  5   One teaspoon smoked paprika
  6   Salt and pepper
  7    2, eggs beaten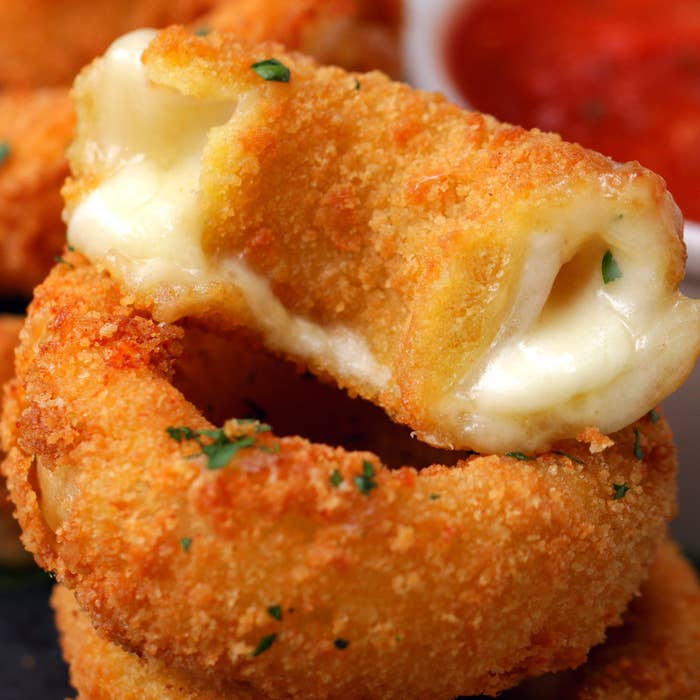 8   One tablespoon heavy cream
  9   cooking spray
How to prepare Keto Fried Onion Rings
1. Take a medium bowl, and mix Almond flour, Parmesan cheese, baking powder, smoked paprika, salt, and pepper.
2. Take another bowl, beat the eggs and whisk them with heavy cream until they are blended perfectly.
3. Soak the onion rings in the eggs and, after that, the almond flour mixture. With the help of a fork, properly coat each onion ring.
4. Gently move the onion rings to a parchment-lined baking sheet and repeat with the remaining onion.
5. Baking Method – Preheat the oven to 400 degrees. Organize the onions in a single layer and spray with cooking spray. Bake for 10 minutes. Flip and re-spray with oil. Bake another 8 to 10 minutes, until crispy and brown.
6. Deep fry Method- Place the onion rings on a plate. Take a large pan to add half a cup of oil. When heating the oil add some, rings to the pan, leaving space in between each ring. Deep fry for 2 to 3 minutes till golden and crunchy.
7. Live, Love, Eat.
I want to share Keto onion rings-Crispy crunchy and tasty! recipes video.
Nutritional Information for Keto Fried Onion Rings
Calories: 217.11kcal |
Carbohydrates: 7.64g |
Protein: 12.51g |
Fat: 16.4g |
Saturated Fat: 4.59g |
Cholesterol: 72.65mg |
Sodium: 279.37mg |
Potassium: 277.44mg |
Fibre: 2.45g |
Sugar: 1.67g |
Vitamin A: 424.3IU |
Vitamin C: 1.36mg |
Calcium: 323.1mg |
Iron: 1.38mg
https://www.youtube.com/channel/UCiGYsZu4I7g_L-2FxLMj_Ug
This is our YouTube channel link. Please like, share, comment and subscribe to our channel.
Recipe Keto fish ball recipe low carb food! Theopenmagazines