Keto Friendly Apple Fritters. Who loves apple fritters? Today I make the Low Carb Apple Fritters that are keto-friendly and taste like the real thing!



I have created a YouTube channel on keto recipes low carb food if you like our recipes please like, share and subscribe to us!
https://www.youtube.com/channel/UCiGYsZu4I7g_L-2FxLMj_Ug
This keto apple fritter is usually the most amazing thing that ever happened to anyone eating low carb.
I promise you are going to love these. These new keto apple fritters turned out amazing. This recipe is low-carb, sugar-free, gluten-free and diabetic-friendly.
Ingredients required for Keto-Friendly Apple Fritters:



FOR THE ZUCCHINI apple fritter
2 medium Zucchini, peeled and seeds removed
1 tbsp. Lemon Juice
2 tsp. Ground Cinnamon
1/4 cup Granulated Erythritol (1/2 cup for Allulose)
3 tbsps. Butter
FOR THE DOUGH Keto-Friendly Apple Fritters
1 cup Almond Flour



2 tbsps. Coconut Flour
1 tbsp. Ground Golden Flaxseed Meal
Half cup Granulated Erythritol
1 tsp. Xanthan Gum
1 tsp. Baking Powder
2 tsps. Cinnamon
1/8 tsp. Ground Ginger



One tsp. Vanilla Extract
2 large Eggs
3 tbsps. Butter softened
1 tbsp. Liquid Coconut oil, or 1 additional tbsp. Butter
CINNAMON ICING Keto Friendly Apple Fritters
3/4 cup Powdered Erythritol (or Allulose for no cooling effect)
1/2 tsp Ground Cinnamon
1 tbsp melted Butter



Milk, as needed
How to prepare Keto Friendly Apple Fritters:
1   Preheat your oven to 375F and grease the muffin pan with melted butter.
2   To make the zucchini: we have to peel the zucchini and we have to remove the zucchini seeds.
3   We can remove zucchini seeds with the help of a scoop.
4   Now we have to cut the remaining zucchini into ½ inch pieces.
5   Take a skillet over medium-high heat and add butter.
6   When butter is melted add lemon juice, cinnamon, and erythritol and cook it for 3 to5 minutes.
7  After that set it aside for 10 minutes.



8   Now take a large bowl and add almond flour, coconut flour, ground flaxseed meal, xanthan gum, baking powder, cinnamon, ginger, and erythritol and mix well till well combined.
9   Now in the same bowl add beaten eggs, coconut oil, and vanilla and beat till thick batter forms.
10  Now we have to fold in the prepared zucchini and with the help of a scoop fill the muffin pan with the batter and top with cooking spray.
11  Now bake it for 10-12 minutes or till it turns brown.
12  Icing: we have to mix the icing ingredients and mix well till it is well combined and add a few tablespoons of milk.
13  Now dip the hot fritters in the icing and let it cool.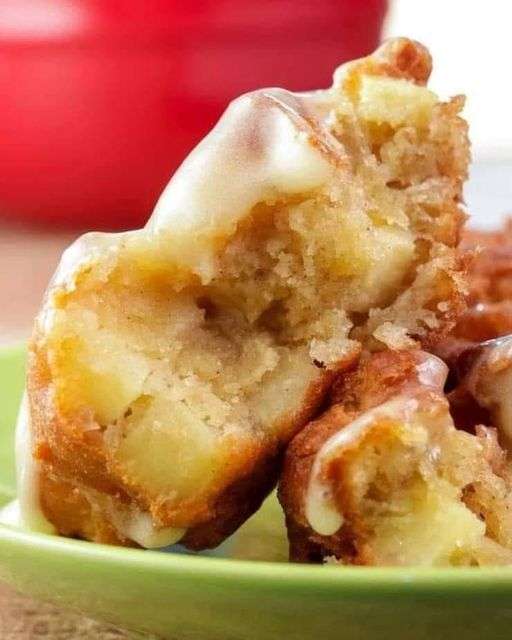 Nutritional Information for Keto Keto Friendly Apple Fritters:
Total Fat 9g
Carbohydrates 3gNet
Fiber2gProtein 3g
Recipe: Creamy chicken spinach pasta bake recipe is extremely delicious