Keto Parmesan Pork Chops Crispy, salty, and great for having keto side dishes or cutting up over a salad, this Keto Crusted Pork chops dish is a fantasy for Keto lovers.
The key to this recipe is pork rind breading. Try my famous recipe Yorkshire pudding or Keto Cabbage Dumplings, Low Carb Parmesan Pork Chops make a tasty, crispy coating. Let's take a look at this baked parmesan crusted pork chops simple yet super-delicious recipe.
– 
– 
| | | |
| --- | --- | --- |
|         Total Servings |            Prep Time |             Cooking Time |
|               4 |            10 minutes |               20 minutes |
https://www.youtube.com/channel/UCiGYsZu4I7g_L-2FxLMj_Ug
Please show your love for our YouTube channel. Please support us and subscribe to us.
Ingredients required for low carb parmesan pork chops
1. 4 pork chops; thin-cut and boneless
2. 1 cup crushed rinds of pork (put pork rinds in a bag, roll over them with a rolling pin or a wine bottle)
3. 1 cup of parmesan cheese; shredded
4. 1 egg



5. Sour cream or heavy cream- 1/2 cup
6. 2 teaspoons of butter
7. 1/2 cup- stock of chicken
8. Lemon juice- 3 tablespoons
9. 2 tablespoon fresh chives; chopped
10. Salt and pepper; according to taste
NOTE: Double the parmesan or use almond flour if you don't want to use pork rinds. You can use heavy cream if you do not like sour cream.
How to prepare Keto Parmesan Pork Chops
1. Preheat the oven, with a cast-iron skillet in it, to 400 degrees. If you don't use a pan made of cast iron, just preheat the oven without a pan.
2. Whisk the egg in a mug. On a plate, blend the pork rinds and parmesan cheese, and season with salt and pepper.
you found my most popular recipe Keto breaded Cheese Bombs or Keto Carrot Cake
3. Dip the pork chops in the egg and dip them into the mixture of pork rind and parmesan cheese. Unless you want it to, it doesn't have to cover every little bit. Only get a fine overall coating. Continue with all the pork chops.



4. When the oven is preheated, remove the cast iron from the oven and place it on the stove. Heat the pan over high-medium heat. Add the butter and add the pork chops after they melted.
5. Cook the pork chops for three minutes on one side, then turn over. Put the pan (or oven-safe dish) in the oven for 6-10 minutes once you flip until it reaches the desired temp (about 7 minutes).
6. Remove the pork from the oven and place the bits to rest on a cutting board. (Leave in the pan all the nice parts; it helps make your sauce).
Add 1/2 cup of chicken stock and sour cream to the cast iron skillet (or another pan). Season with salt and pepper.
7. Bring the sauce to a boil and whisk it. Add lemon juice to it. Keep whisking. Reduce the heat and continue to cook until the sauce thickens (it should stick to the back of a spoon). Add in the chopped chives.
8. Place pork chops on a plate and pour the sauce over it.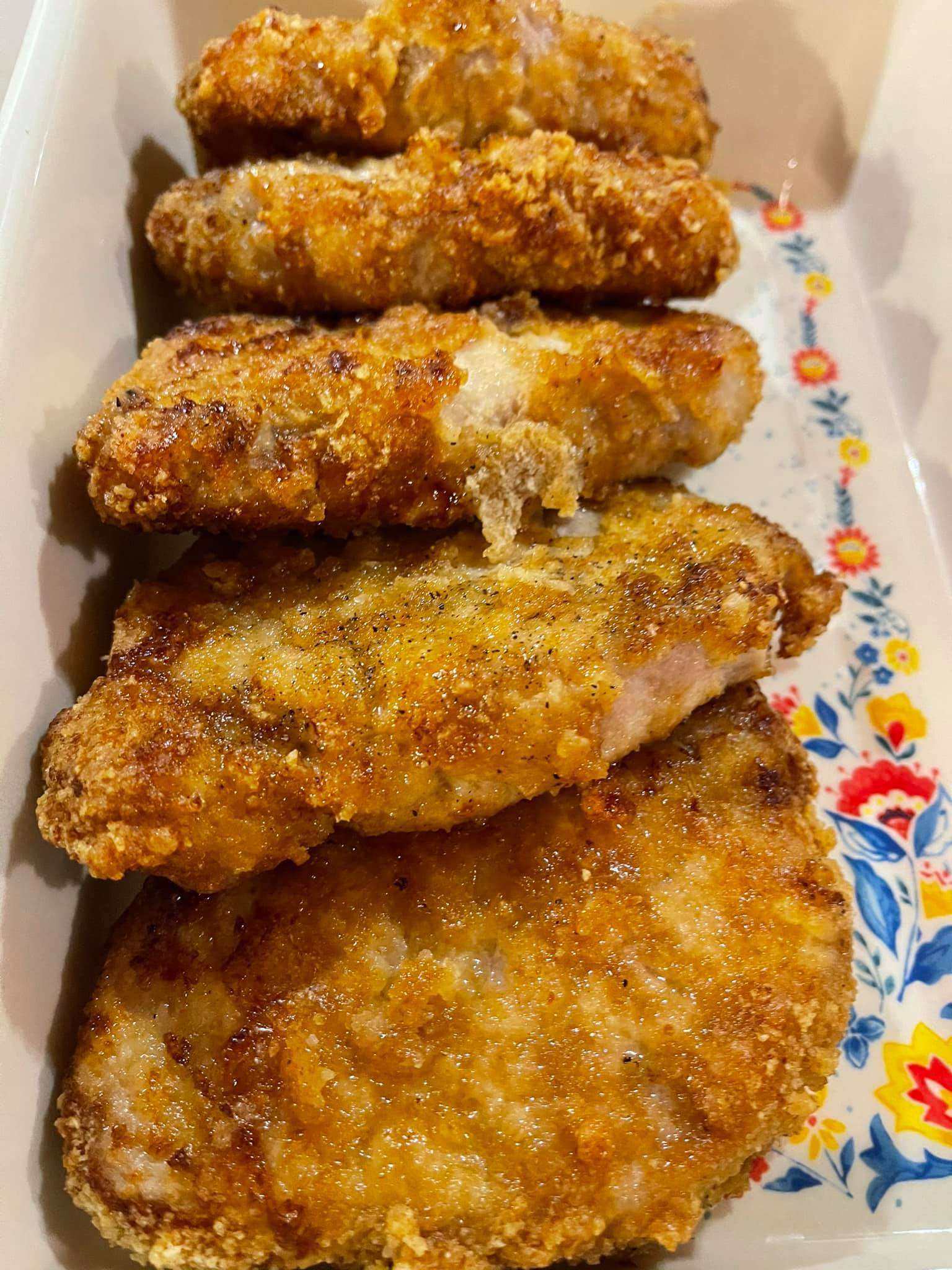 Nutritional Information for Keto Parmesan Pork Chops
 Calories- 495
 Fat- 30g
 Saturated Fat- 10 g
 Sodium- 618 mg
 Carbohydrates- 0.1 g
 Protein- 51 g
Next recipe: Keto Cabbage Dumplings