Low carb chicken piccata is the perfect quick and easy weeknight dinner. Yet so flavourful that it will taste like you spent hours in the kitchen. Chicken piccata keto is a delicious meal that can be on the table in less than 30 minutes.



We have created our YouTube channel also.
If you like our channel do like share and subscribe to us.
https://www.youtube.com/channel/UCiGYsZu4I7g_L-2FxLMj_Ug
Please support us to get more delicious recipes. Keto chicken piccata recipe is healthy, easy and delicious. It is one of my most favourite foods ever. This is the crispy easy chicken piccata recipe plus heaven on a plate. It is a great recipe and it is sure to be a family favourite. It has only 4 net carbs per serving.
Ingredients required for healthy chicken piccata :
2 pounds chicken breast, boneless, skinless, thin sliced



4 tablespoons butter or ghee
2 tablespoons olive oil
1/2 teaspoon salt and pepper
1 teaspoon garlic powder
3 tablespoons almond flour
3 tablespoons parmesan cheese, grated
For the sauce: lemon chicken piccata recipe
Half cup chicken broth or stock



1/2 cup white wine vinegar
1/4 cup capers, drained
1/2 lemon, juiced
For the topping: baked chicken piccata
Romano cheese or grated parmesan
How to prepare the gluten-free chicken piccata recipe:
1  Take a bowl and add the chicken and season with salt, pepper and garlic powder.



2  Now take another bowl and add almond flour and grated parmesan cheese and mix well till well combined.
3  Take a large skillet on medium-high heat and add 2 tablespoons of butter and melt it.
4  Now coat the chicken with almond flour mixture and set it aside.
5  Now put these coated chicken pieces into the skillet and cook for 2-3 minutes and cook well on both sides.
6  Once chicken pieces cook well move them to the plate.



7  Now in the same skillet add chicken broth, vinegar, capers, lemon juice, and cook for 2-3 minutes till sauce has reduced out.
8  Serve it into the plate and pour the sauce over the chicken.
9 Now top up with parmesan or romano cheese.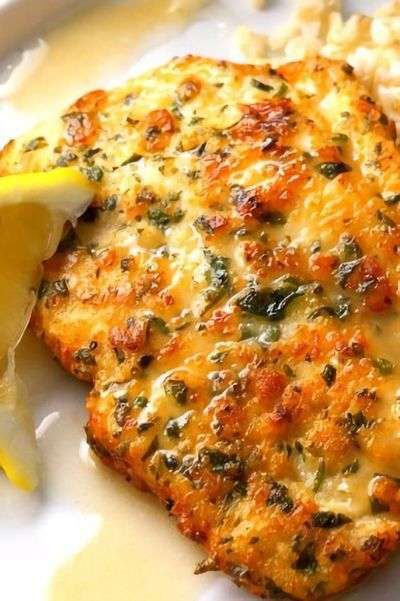 Nutritional Information for the creamy lemon chicken piccata recipe:
Calories: 430 Fat: 20g Carbs: 2g Protein: 57g
Recipe Breakfast kolaches, cream cheese kolache recipe, keto recipe