Philly cheesesteak cheesy bread. My popular keto Philly cheesesteak cheese bread is an easy low carb Philly cheese bread side dish.



Deliciously edible, with a crisp topping of cheddar cheese, it makes the best low carb thanksgiving stuffing too!
We have created our YouTube channel also; if you like our channel recipes please like, share, comment and subscribe to us. https://www.youtube.com/channel/UCiGYsZu4I7g_L-2FxLMj_Ug
It tastes just like the real thing, which means your whole family is going to love it! It has just 3g net carbs per serving, so enjoy this recipe! I have tried many keto best bread for cheesesteak recipes and this is still my favourite. This recipe is wonderful for dipping in soups, sandwiches.
Ingredients required for Keto cheesesteak bread



1 pound Sirloin Steak
Salt and Pepper
6 Tbsps. Butter, divided
2 Tbsp. Olive Oil
2 Stalks Green Onion
1/2 cup Mayonnaise
4 ounces Pepper Jack, shredded



4 ounces Parmesan, shredded
4 ounces Cheddar, shredded
1 Green Bell Pepper, diced
1 Onion, thinly sliced
1 loaf keto Bread
How to prepare Keto Philly Cheesesteak cheesy bread:
1  Firstly, you have to preheat your oven to 350 degrees.
2  Now season the steak with salt and pepper.



3  Take a skillet over medium-high heat and add 2 tablespoons of butter and olive oil.
4  When heated up the oil add steak into it and cook it for 4 to 5 minutes or till it looks golden brown.
5  Now flip the steak and cook it for another side.
6  Now take an oven baking dish and grease it with melted butter and put the steak into the baking dish and bake it at 145 c for 10- 12 minutes or till it cooks properly.
7  While the steak is cooking take another pan and add 2 tablespoons of butter and add thinly sliced onion, caramelize onion and sauté well till it turns golden brown.



8  Now add green bell pepper or sauté well.
9  Remove the steak from the oven and cut it into a cube-sized shape.
10  Take a bowl and add cheeses, mayonnaise, green onion, and caramelized onion, bell pepper, and steak and mix well till well combined.
11  Now we have to slice keto loaf bread lengthwise and put it onto the baking sheet and put the mixture on the top of the bread slices. I now bake it for 10-12 minutes or till cheese is fully melted.
12  Remove from the oven and serve the best buns for Philly cheesesteak!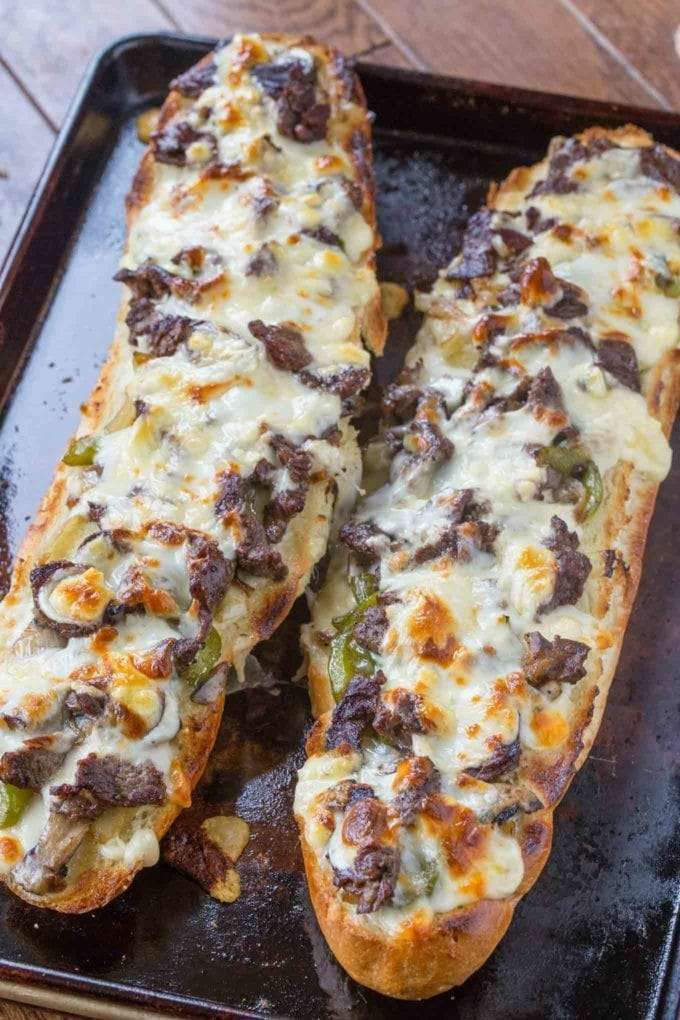 Nutritional Information for Keto best philly cheesesteak bread:
26g total carbs,
117g net carbs,
85g fat,
69g protein,
1560 calories
Recipe Corn dog on a stick, Keto Corn Dog easy & delicious recipe