Delicious Keto Recipes for a healthy lifestyle
Keto Cheddar Bacon Burger Please Try Bacon Cheddar Burger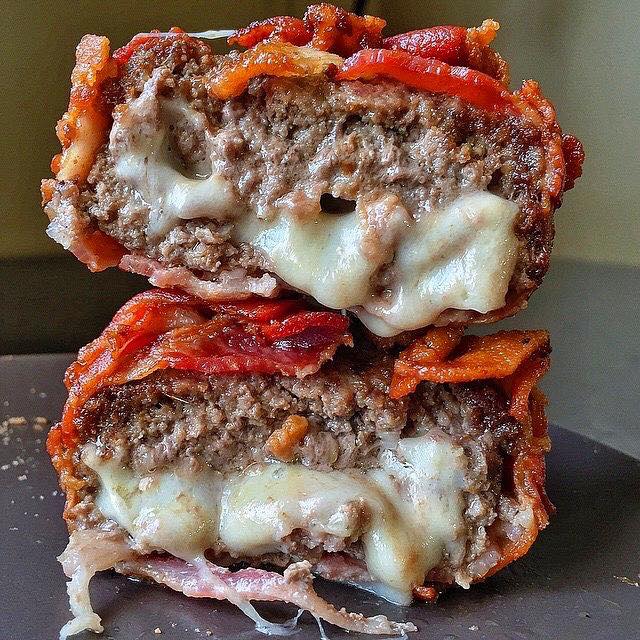 This Cheddar Bacon Burger is an ideal keto meal – flavoursome and satisfying with only 5g net carbs! Enjoy just-cooked patties on a buttery brioche substitute for the ultimate burger experience.
You can also try weight loss recipes: Keto Almond Flour Roti Recipe or Weight Loss Roti At Home
Indulge in a keto-friendly take on a classic burger with this bacon cheddar burger. Enjoy just-cooked patties with creamy cheddar cheese, smoky bacon, and buttery brioche substitute for an ultimate low-carb experience — all with only 5g net carbs!
Ingredients required for Keto Bacon Cheddar Burger:
Chaffle Buns:
  3 Large eggs
 One cup of shredded cheddar cheese
 1/4 cup almond flour
 1/2 teaspoon baking powder
For the Burgers:
 80/20 Ground Beef
 1 Tablespoon Worcestershire sauce
 2, Teaspoons minced garlic
1/2 teaspoon kosher salt
 1/2 teaspoon black pepper
Burger Toppings:
 3 slices cheese (any variety)
 6 Slices thick-cut bacon
 6 lettuce leaves, romaine or iceberg
3 Tomato slices
1/8 cup red onion, thinly sliced
How to prepare Keto Bacon Cheddar Burger:
For the Chaffle Buns:
1   Take a mixing bowl and add eggs, shredded cheese, almond flour, and baking powder & mix it well till thick batter forms.
2   Take a mini waffle maker & heat it & pour the batter into the waffle maker make sure not to overfill it and cook waffles for two to three minutes or until steam stops emitting.
 For the Burgers:
1    Take a bowl and add the beef, sauce, garlic, salt and pepper into the bowl & mix it well and divide the mixture into three equal portions.
2    With the help of a burger press, place the Patties' into the between of the parchment paper and flatten it till it is about ½ inch thick.
 3   Season the outside of the burger with seasoned salt and pepper.
How to grill a burger:
1    First, heat the grill to 400 degrees F.
2    Then, place burger patties into preheated grill grates.
 3   Cook it for 3 to 4 minutes ad flip and cook for 3 minutes add cheese and remove from the grill.
To Assemble the Burgers:
Layer the cooked burger patty, cheese, crisp bacon, and vegetables on the chaffle buns and enjoy!
 Nutritional Information for Keto Bacon Cheddar Burger:
Serving Size1/ Calories584/ Carbohydrates7g
Fat36g/ Net Carbs7g/ Protein58g
Archives
Categories
Recent Posts