Easy Chicken Parm Sandwich, These Keto chicken parmesan sandwiches are a fresh treat full of protein and flavour!
Please like, share comments and subscribe to our YouTube channel.
 https://www.youtube.com/channel/UCiGYsZu4I7g_L-2FxLMj_Ug
Please stay with us so that we can make more delicious recipes.



It is so easy and super tasty! These are awful and super freely to make! My whole family loved them! What does everyone else put in their chicken parm hero sandwich mix? Try this recipe and let us know how much you relish it!
I cannot resist this crunchy, juicy and delicious treat!
Ingredients required for Keto Easy Chicken Parm Sandwich:
   6 small chicken breasts 1 1/2 pounds



   1/2 teaspoon salt
   2 cups almond flour
   3 large eggs
   Half cup parmesan cheese
  1/2 teaspoon garlic powder
  1/2 teaspoon onion powder



   2 tablespoon oil to fry
For the toppings Easy Chicken Parm Sandwich
   2 cups keto marinara sauce
   1 1/2 cups mozzarella cheese freshly sliced
   1/3 cup parmesan cheese
How to prepare Keto Chicken parmesan sandwiches:
1  We have to pound the chicken breast to ¼ inch in thickness.
2  Now we have to sprinkle salt into each chicken breast and we have to coat each side of the chicken with almond flour till it is coated well.



3  Take a small bowl and add beaten eggs and whisk well.
4  In another bowl add parmesan cheese, garlic powder, onion powder and we have to add the remaining almond flour and mix well till well combined.
5  Now we have to dip the chicken pieces into the beaten eggs and drip off into the almond flour mixture.
6  Do the same process till the chicken is coated well.
7  Take a non-stick pan and add oil over medium-high heat.
8  When heated up the oil add coated chicken and fry it for 2 to 3 minutes.
9  Flip and cook another side for 2-3 minutes.
10  Place chicken breasts onto the plate and cover in some paper towel to soak up oil.



11  Now, preheat your oven to 200C.
12  Take a baking sheet and add parchment paper to it and grease it with melted butter.
13  Now place the crumbed chicken on the baking sheet and top with marinara sauce and 2-3 slices of mozzarella cheese and 2 tablespoons of parmesan cheese.
14  Now bake it for 10-15 minutes or till cheese is fully melted and brown on top.
15  Remove from the oven and serve and eat!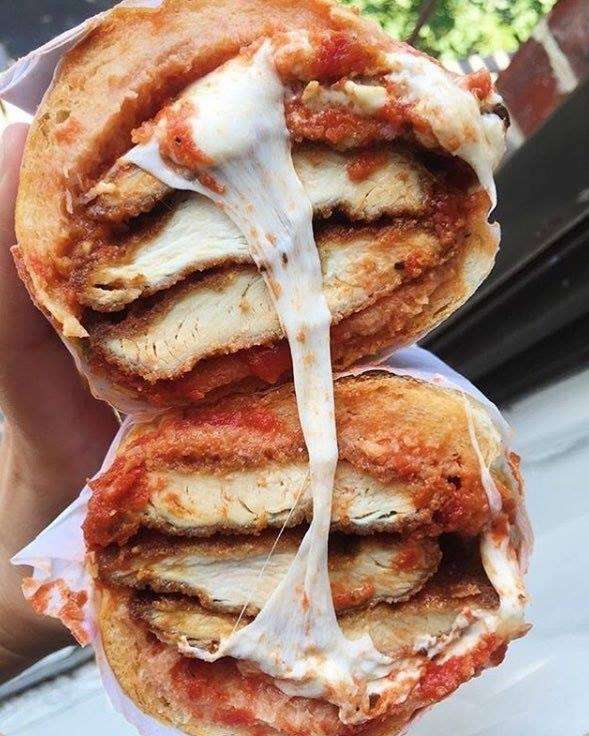 Nutritional Information for Keto Chicken parmesan sandwiches:
Serving: 1serving | Calories: 349kcal | Carbohydrates: 4g | Protein: 45g | Fat: 12g |Sodium: 714mg | 
Potassium: 888mg | Fiber: 2g | Vitamin A: 311IU | Vitamin C: 3mg | Calcium: 191mg | Iron: 1mg | NET CARBS: 2g
Recipe: Weight watchers 1 point mug cake