Delicious Keto Recipes for a healthy lifestyle
How To Make KETO BIRRIA TACOS-The Open Magazine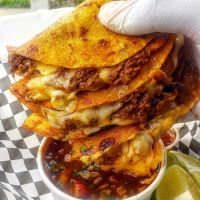 These Keto Birria Tacos are scrumptious in taste. This recipe is made with juicy beef and seasoned with a blend of aromatic spices and it is a great treat for your family and friends.
Get ready to savour every bite and experience the best of both worlds – delicious flavours and guilt-free dining.
INGREDIENT LIST TO MAKE LOW CARB BIRRIA TACOS
 2 lbs Cab Sirloin For Stews- This is one of my favourite options, but you can always try beef chuck roast if you prefer
 1.5lbs Beef Shank
 3 Dried Guajillo Peppers
 3/4 C Crushed Tomatoes- This will get blended in the food processor so diced tomatoes are fine, you just can't use tomato paste as a replacement.
 1 Can Chipotle Peppers in Adobo Sauce
 1 tsp Paprika
 3/4 tsp Cumin
 3/4 tsp Oregano
 1/2 tsp Pepper
 1/2 tsp Salt
5 Cloves of Garlic
1/4 C Apple Cider Vinegar
1 tbsp Avocado Oil- We add Avocado oil or olive oil to the list for frying your tacos.
Stew Additions
1 Carton Chicken Broth approx. 4 cups- Beef stock will also work, but I really like chicken stock for its neutral flavour. Beef stock is different than beef broth so keep that in mind if you decide to use it.
1 Cinnamon Stick- Cinnamon sticks are a great way to add extra flavor.
4 Bay Leaves
1 Medium Red Onion
Toppings
Low Carb Tortillas
Shredded Mexican Cheese- Any shredded cheese of your choice will work.
Avocado
Sour Cream
Chopped cilantro
How to prepare Keto BIRRIA TACOS
1 Take a pot of water to a boil and then drop Drop in the dried peppers and allow them to rehydrate for 20 minutes.
2 Now cube the sirloin into 1 large piece and then season it with salt and pepper.
3 Take a blender and add chipotle peppers, paprika, cumin, oregano, pepper, salt, vinegar, and garlic together and mix till it turns into a smooth paste.
4  Now remove the hydrated peppers from the hot water and cut off the tops.
5 They may still look a little dry. Tap out as many seeds as possible from the centre before adding the peppers to the marinade and blending again until smooth.
6 Then add meat into a gallon zip-top bag and cover it with the marinade. Marinate it overnight.
7 Take a jar and add chopped and diced onion and only one tablespoon of oil.



8 Once the onions are translucent, remove them from the instant pot and sear the marinated meat in batches.
9 Then add the onions with the meat and bay leaves also, cinnamon stick, and chicken broth.
10 Place on the lid and set the instant pot to "sealed". Cook on manual or meat/ stew for 45 minutes.
11 To ensure that your meat stays tender, it's important to allow the instant pot to naturally release. This means letting the pressure release on its own for about 30 minutes before carefully opening the pot and shredding the meat. This will help prevent the meat from becoming tough and ensure that it's perfectly cooked
12  To make the perfect tacos, simply warm up some tortillas and fill them with your favourite ingredients. For an extra crispy texture, you can also lightly fry the tortillas in oil on a skillet. And don't forget to ladle some of the flavorful broth into a cup to enjoy alongside your tasty tacos!
Nutritional information for LOW CARB BIRRIA TACOS:
5g Net Carbs.
1g Fiber.
6g Total Carbs.
 42g Protein.
 23g Fat.
 408 Calories.
Archives
Categories
Recent Posts