Delicious Keto Recipes for a healthy lifestyle
Keto Butterfinger candy bars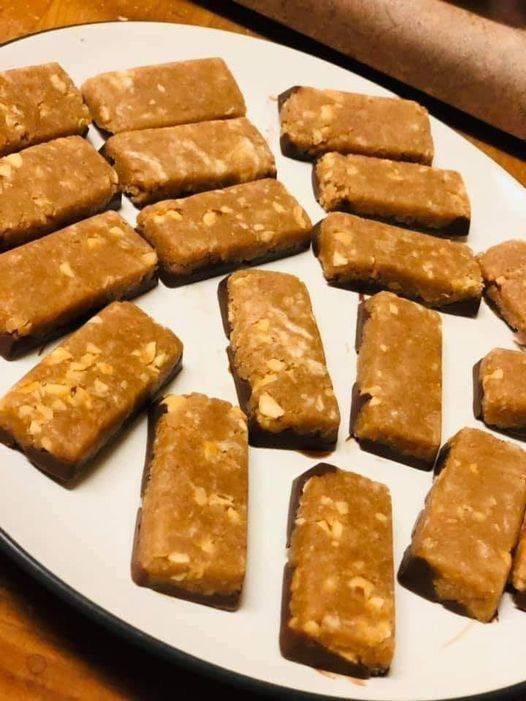 Introducing the Keto Butterfinger Candy Bars—a low-carb twist on the classic treat that brings all the crunch and sweetness without the guilt. Packed with the nutty goodness of natural peanut butter and covered in a rich, sugar-free chocolate shell, these bars are a delightful indulgence for anyone following a ketogenic lifestyle. With a perfect balance of flavors and textures, you won't believe they're keto-friendly. Say goodbye to cravings and hello to a guilt-free sweet escape! Ready to embark on this delicious journey?
Ingredients required for Keto Butterfinger candy bars:
¼ cup Low carb peanut butter

3 ounce Cream cheese

½ cup Almond flour

¼ cup Swerve confectioners' sugar substitute

1 teaspoon Vanilla extract

⅓ cup Lily's baking chips

1 tablespoon Coconut oil

2-3 tablespoon chopped peanuts (optional)
How To prepare Keto Butterfinger candy bars:
1 Take a bowl add the peanut butter, cream cheese, almond flour, confectioners' sugar substitute and vanilla extract and mix it well till well combined.
2 Then add the chopped peanuts to give crunch in the candy bars.
3 Take rectangular candy bar mould and add the dough mixture and press it ¾ of the way full.
4 Now place this mold into the freeze to set at least 2 hours.
5 Take a microwave bowl and add the lily's baking chips and coconut oil.
6 Heat it for 30 seconds only till chocolate is melted well and mixture is well combined.
7 Onto the top of candy bars place a layer of the chocolate mixture and then place in to the freezer till the chocolate and bars are completely set.
Nutritional Information:
Net Carbs: 4
Archives
Categories
Recent Posts