Delicious Keto Recipes for a healthy lifestyle
Delicious Keto Coconut Chicken Strips Recipe for a Healthy Meal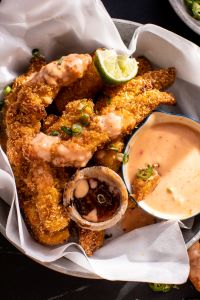 If you are a fan of fried chicken, you all want to try these Fried Keto Coconut Chicken Strips. They're a delicious and unique take on a classic comfort food recipe that will satisfy your cravings.
Looking for a tasty and healthy meal that the whole family will love? Try making keto coconut chicken tenders! This recipe is perfect for picky eaters and can be easily adapted to feed a large group. Give it a try and see how delicious healthy eating can be!
How Many Carbs in Coconut Flour-

4g
Ingredients required for Keto Coconut Chicken Strips Recipe:
3 Large Chicken breasts Sliced into 8-9 pieces
1/3 cup Coconut flour
 2 Eggs beaten
1.25 cup Coconut flakes unsweetened
Half tsp. Garlic powder 
1/2 tsp. Smoked paprika
Sea Salt
Black pepper to taste
Oil for frying
3/4 cup Olive oil or coconut oil for frying. I prefer olive oil. This is an approximate amount.
How to prepare Keto Coconut Chicken Strips Recipe:
1   For a delicious and keto-friendly meal, try making coconut chicken strips! Start by cutting chicken breasts into strips, making sure to slice them in half if they are particularly thick. Aim for about 3 Tenders per breast.
2  Season your chicken with a little salt and black pepper. This will help the meat absorb the flavours and stay juicy. And the best part? You don't even need to pound the meat! "Simply coat the chicken in coconut flakes and bake until crispy and golden brown. Enjoy as a tasty and satisfying meal or snack.
3     You'll need to set up a three-bowl assembly line. In the first bowl, beat some eggs. In the second bowl, place some coconut flour. and the third bowl, mix some coconut flakes, garlic powder, and smoked paprika.
4   Start by heating a large frying pan over medium heat and adding some olive oil.
5   Start by coating each chicken tender in coconut flour. Then, dip it in an egg mixture before rolling it in coconut flakes. Once coated, immediately place the chicken in a frying pan to cook.
6  It's important to avoid overcrowding the pan. If necessary, cook the chicken in batches to ensure that each strip is cooked evenly and thoroughly.
7  Cook each side for 3-5 minutes in a frying pan using tongs or a fork to flip them over.
8  These delicious Keto Coconut Chicken Strips are best enjoyed with your favourite dipping sauce.
NUTRITION: keto coconut chicken tenders
Serving: 2strips Calories: 683kcal Carbohydrates: 12g Protein: 42g Fat: 52g
Sodium: 260mg Fiber: 8g Net Carbs: 4g Fat Ratio per Serving: 68.52%
Protein Ratio per Serving: 24.6%Carb Ratio per Serving: 2.34%
Archives
Categories
Recent Posts