Delicious Keto Recipes for a healthy lifestyle
Delicious Keto Lemon Blueberry Bread Satisfy Your Sweet Tooth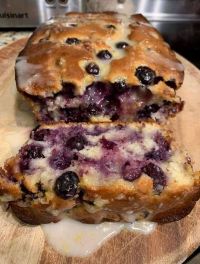 Keto Lemon Blueberry Bread. Do you love sweet food but want to stick to a low-carb diet? Try our delicious lemon bread recipe! This dewy and flavourful bread is packed with juicy blueberries and zesty lemon flavour and is the perfect treat you can eat any time of day. 

Try our weight loss recipe: Keto Almond Flour Roti Recipe or Weight Loss Roti At Home
You can satisfy your cravings without compromising your health goals. So, whether you are a seasoned keto veteran or just starting, our blueberry Lemon Bread is sure to become a new favourite in your recipe collection. 
Ingredients for Keto Lemon Blueberry Bread
– 2 cups almond flour
– 1/4 cup coconut flour
– 1/2 cup erythritol

– 1 tsp baking powder
– 1/4 tsp salt
– 1/2 cup unsalted butter, melted
– 4 large eggs

– 1/4 cup lemon juice
– 1 tbsp lemon zest
– 1 cup fresh blueberries
How to prepare Keto Blueberry Lemon Bread:
1  Preheat your oven to 350°F. 
2  Then Grease a 9×5 inch loaf pan with non-stick cooking spray.
3  In a "large bowl, mix the almond flour, coconut flour, erythritol, baking powder, and salt & mix it well till well combined.
4   In another bowl, whisk together the melted butter, eggs, lemon juice, & lemon zest and stir well.
5  Add the wet ingredients to the dry ingredients and stir until well combined.
6 Gently fold in the blueberries.
7  Pour the batter into the prepared loaf pan carefully & smooth out the top.
8  Bake for 45-50 minutes or till the toothpick comes out clean.



9 Let the bread cool in the pan for 10 minutes, and then transfer it to a wire rack to cool completely.
Nutritional Information
– Calories: 225
– Fat: 20g
– Protein: 6g
– Carbohydrates: 7g
– Fiber: 3g
– Net Carbs: 4g
Tips for Baking Keto Bread:
Baking with keto-friendly ingredients can be a bit different from traditional baking. Here are some tips to help ensure that your keto blueberry lemon bread turns out perfectly:
– Use room temperature ingredients. This will help ensure that your ingredients blend smoothly.
– Don't overmix the batter. Overmixing can cause the bread to become dense and tough.
– Let the bread cool completely before slicing. This will help it hold together better and prevent it from becoming crumbly.
Conclusion
If you're looking for a delicious and satisfying treat that won't derail your keto diet, look no further than our keto blueberry lemon bread recipe. This moist and flavorful bread is bursting with juicy blueberries and zesty lemon flavour, making it the perfect snack or dessert. And with just 4 Net carbs per slice, you can indulge without any guilt. So, get ready to bake up a storm and enjoy a delicious treat that's both healthy & satisfying!
Archives
Categories
Recent Posts