Delicious Keto Recipes for a healthy lifestyle
Deliciously Keto Mozzarella Stuffed Meatballs Cheesy Recipe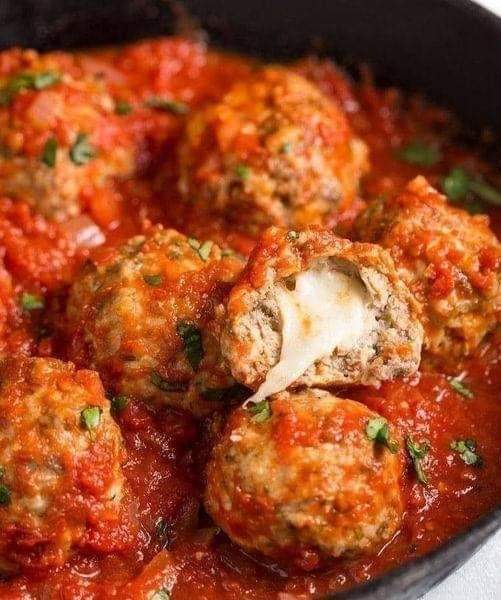 Keto Mozzarella Stuffed Meatballs. Looking for a mouthwatering twist on a classic dish that won't derail your low-carb lifestyle? Look no further than this deliciously cheesy keto mozzarella stuffed meatball. Bursting with flavour and oozing with gooey melted cheese, these meatballs are a game-changer for anyone following a ketogenic diet.
Ingredients and Preparation for Mozzarella Stuffed Meatball
To make these deliciously cheesy keto mozzarella stuffed meatballs, you'll need the following ingredients:
– Lean ground meat (such as beef or turkey)

– Almond flour or crushed pork rinds
– Italian seasoning
– Garlic powder
– Onion powder
– Salt and pepper

– Mozzarella cheese (preferably low-moisture, part-skim)
Step-by-Step Guide to Making Deliciously Cheesy Keto Mozzarella Stuffed Meatballs
1 First preheat your oven to 375°F (190°C) and on a baking sheet add parchment paper.
2  Take a mixing bowl add the ground meat, almond flour or crushed pork rinds, Italian seasoning, garlic powder, onion powder, salt, and pepper and mix it well till all the ingredients are mixed well.

3  Take a small amount of the meat mixture and with the help of your palm of your hand flatten it.
4  Add a small cube of mozzarella cheese to the centre of the meat mixture.
5  Then Fold the meat mixture around the cheese and make it into a ball shape. And make sure the cheese is enclosed by the meat.
6  Now place these stuffed meatballs onto the prepared baking sheet.
7  Do the same process with the remaining meat mixture.

8  Bake it for around 20 to 25 minutes or till they turn golden brown in colour.
9  Remove the meatballs from the oven and let them cool down for a few minutes before serving.
10  Enjoy!
Nutritional Information for Keto Mozzarella Stuffed Meatballs
 Calories 720Calories from Fat 450
% Daily Value*
Fat 50g77%
Saturated Fat 22g138%
Cholesterol 224mg75%
Sodium 1363mg59%
Potassium 927mg26%
Carbohydrates 11g4%
Fiber 2g8%
Sugar 5g6%
Protein 53g106%
Vitamin A 950IU19%
Vitamin C 12.5mg15%
Calcium 513mg51%
Iron 4.7mg26%
Archives
Categories
Recent Posts