Pinwheel Sausage In Oven. I need to make a breakfast version of these keto sausage pinwheels. Trust me you are going to love these!



Like to our YouTube channel and share, comment us.
https://www.youtube.com/channel/UCiGYsZu4I7g_L-2FxLMj_Ug
First time making these and I am so proud of how well they turned out. It is such an easy and absolutely delicious keto sausage cream cheese pinwheels recipe! This recipe is so simple yet super delicious.
Just two net carbs per serving! You will be the hit at the party. It is the perfect gluten-free, keto sausage and cheese pinwheels breakfast or appetizer. Drop the recipe so I can get you tagged in my group.
Ingredients required for Pinwheel Sausage In Oven
2 cups shredded mozzarella cheese
2 ounces cream cheese
3/4 cup almond flour
2 tablespoons ground flax meal
For the Filling: Pinwheel Sausage In Oven
1/2 pound cooked breakfast sausage, drained
3 ounces of cream cheese
How to prepare the Keto Sausage pinwheel recipe:
1   In the first step preheat your oven to 200C.



2   Now take a microwave bowl and add shredded mozzarella cheese and cream cheese and heat it for 30 seconds till melted well.
3   Now in the same bowl add almond flour and ground flax meal and stir well till well combined.
4   Make a dough smooth and ball in shape.
5   Into the between of the parchment paper roll the dough into the rectangle shape.
For the filling: Pinwheel Sausage In Oven
1   Take a bowl and add sausage and cream cheese.



2   Now spread this sausage cream mixture on the dough.
3   Now roll the dough tightly as you can do.
4   Now we have to slice into rolls around the width of two fingers.
5   Take a baking sheet and grease it with melted butter and put these rolls into the baking sheet.
6   Bake it for around 10-12 minutes or till it looks golden brown or till the toothpick comes out clean.



7   Serve on a plate and enjoy breakfast sausage pinwheels with low carb sauce.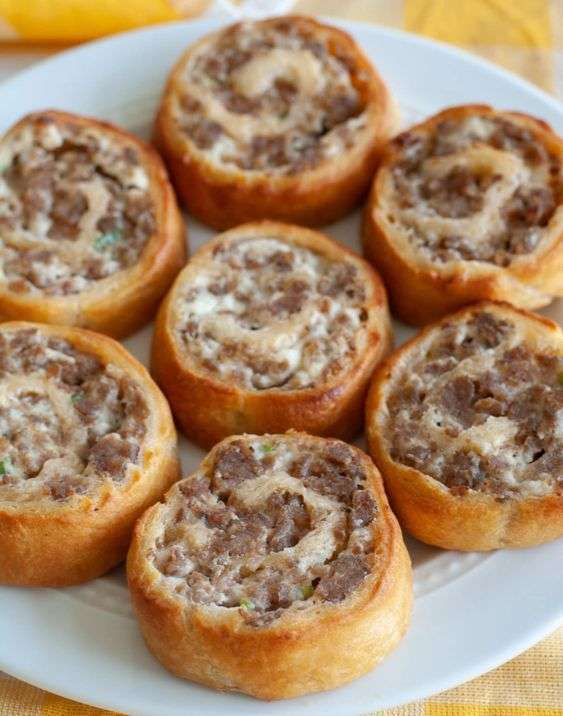 Nutritional Information for Pinwheel Sausage In Oven
CALORIES: 203
TOTAL FAT: 16.5g
CARBOHYDRATES: 2.7g



FIBER: 0.6g
PROTEIN: 12.4g
Recipe: Homemade puff pastry, Keto puff pastry delicious recipe