Delicious Keto Recipes for a healthy lifestyle
Keto Cheddar Cheese Chicken, Crispy Cheddar Chicken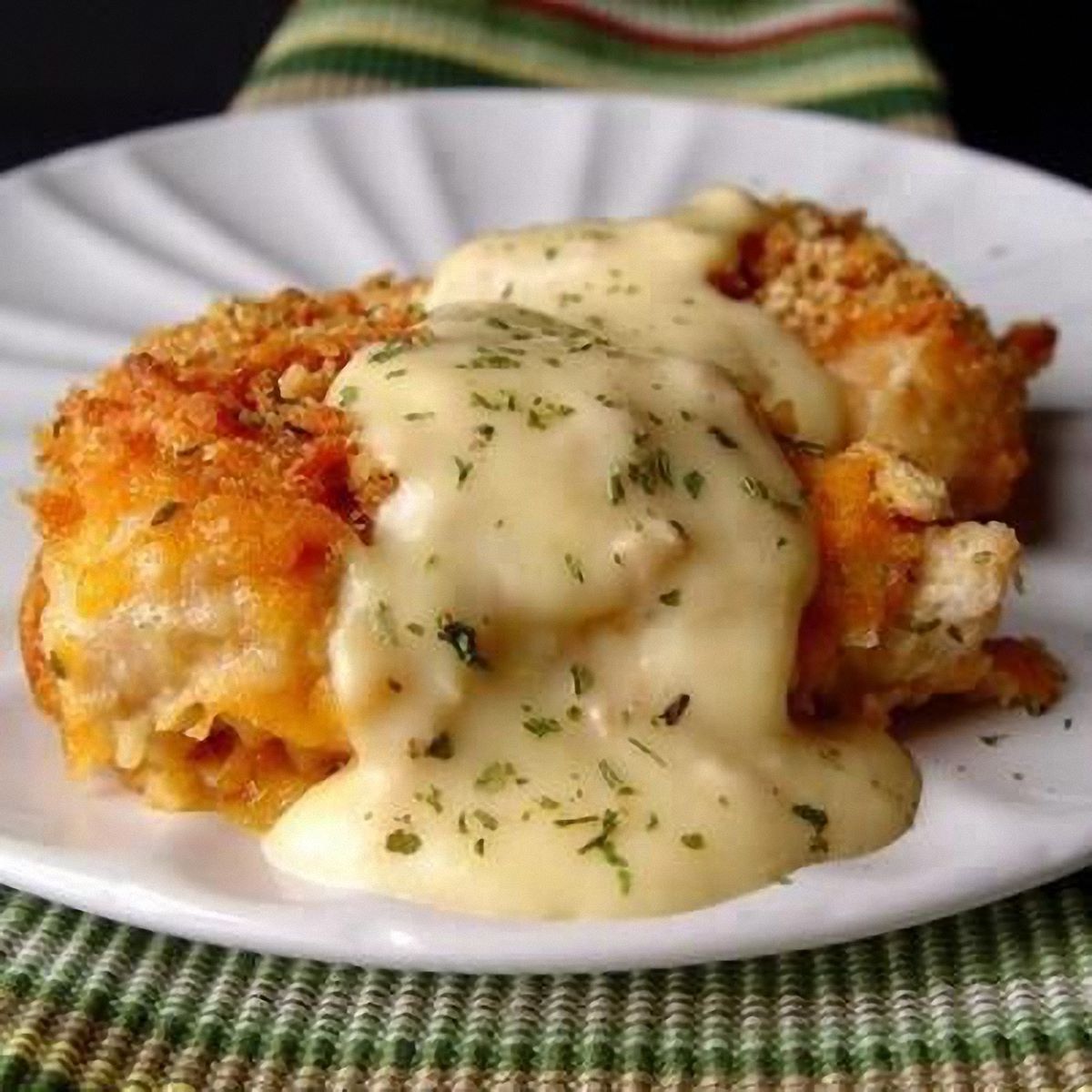 Keto Cheddar Cheese Chicken. Satisfy your chicken cravings with this scrumptious low-carb Crispy Cheddar Chicken recipe! This Keto baked cheddar chicken is sure to leave you feeling full and happy.
Craving fried chicken but don't want to break the rules of your keto diet? Try this delicious crunchy chicken cheese bake recipe! It is easy to make, full of flavour, and perfect for a low-carb meal.
To make this Dish, Keto Friendly Cheddar Cheese Chicken crusted with a combination of almond flour & grated parmesan cheese. Ground pork rind is also used to give the coating an extra crispy texture. These low-carb ingredients create a flavourful crust that makes the chicken only delicious but also visually appealing. Additionally, you can add some spices to your coating for added flavour or simply season the chicken before you bake it. Regardless of how you choose to prepare this dish, your family will love it!
Ingredients required for Cheddar Cheese Chicken:
   2 thigh(s)Chicken thighs, boneless, skinless (organic if possible)

  2 tbsp. Olive Oil, Extra Virgin
  1 tsp. Salt
 1 tsp.Black pepper
One tbsp.Garlic powder
 1 tbsp.Turmeric, powder
 1/4 cup Parmesan cheese, grated
 One Medium Zucchini
 1 cup Lettuce, romaine
 4 cup Kale
 1 cup sliced Green olives
 Half cup of Pecans (chopped)
 1 cup Basil, fresh
1/2 cup Greek salad dressing (vinaigrette) (or approved low-carb dressing.
   How to prepare Healthy Chicken and Cheese Recipes:
1    To make this Crispy Cheesy Keto Chicken, preheat your oven to 400F and get ready for a delicious dinner!
2   Start by tossing your chicken thighs with the seasoning of your choice on a sheet pan, & then top it off with olive oil.
3   Arrange the chicken pieces on a sheet pan spaced out & not overlapping each other.
4   Bake for 10 minutes or until the chicken is cooked through and golden brown & crispy on the outside.
5   To get the cheesy goodness of this Keto chicken, open the oven and top each chicken thigh with a generous sprinkle of cheese. Finish off with a few extra shreds and bake until golden brown and crispy!
6   While the chicken bakes, Take time to prepare a tasty side salad to accentuate your meal.
7   Begin by spiralizing or shaving your zucchini into noodles, then sprinkle them with salt and lay them flat on a kitchen towel to remove any excess moisture.
8   Start by tearing your romaine leaves into small pieces – doing this by hand helps increase the nutritional value.
9   Finally, top it off with fresh basil leaves for a delicious meal!

10   For a delicious Cheesy, Keto Chicken dish, You all need four plates. Divide the kale, lettuce and zoodle among the plates and top each plate with a piece of crispy chicken that's been coated in cheese for added flavour.
11   Deliciousness waits with Crispy Cheesy Keto Chicken! Before baking, season the chicken thighs with a little salt, pepper and Parmesan. Once golden and crispy, plate 1-2 thighs per person.
12  Enjoy your Crispy Cheesy Keto Chicken!
Nutritional Information for Keto crispy cheddar chicken:
Calories 850,  Total Fat 45g,  Protein 66g, Total Carbohydrate 45g,
Sugars  3g, Trans Fat 0. 3 g, Cholesterol 220 mg
Archives
Categories
Recent Posts