Delicious Keto Recipes for a healthy lifestyle
Easy & Quick Cracker Barrel Squash Casserole Recipe Low Carb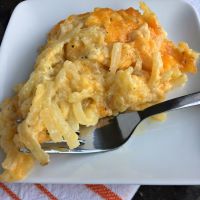 This Cracker Barrel Squash Casserole Recipe is one of the best recipes in the world. This recipe is bursting with flavour and has creamy goodness. In this article, I am sharing with you the perfect squash casserole in the comfort of your own home.
From selecting the freshest ingredients to mastering the art of layering flavours, we'll guide you through each step of the process.
So are you ready to relish this 'scrumptious dish?
Let's get cooking!
The History of Squash Casserole:
This recipe has a rich history and dates back to the early days of American cuisine.
It was a dish in southern households, where fresh vegetables in the kitchen were a necessity.
Why Squash Casserole is a Popular Dish
This recipe is popular because it has many reasons:
This recipe is versatile.
 It allows you to experiment with flavours and create a squash casserole that suits your taste buds perfectly.
Plus, it has a creamy texture and savoury flavours.
Ingredients for the Perfect Squash Casserole
To make the perfect squash casserole, you'll need a handful of simple yet flavorful ingredients. Here's what you'll need:
1. Fresh squash – Choose firm, young squash for the best texture and flavour. Yellow squash & zucchini are commonly used in squash casserole recipes.
2. Onion – A yellow or Vidalia onion works well in this dish, adding a subtle sweetness to the casserole.
3. Garlic – Fresh garlic cloves will infuse the casserole with a delicious aroma and depth of flavour.
4. Butter – Butter adds richness and helps to create a creamy texture in the casserole.
5. Sour cream – This ingredient adds tanginess and creaminess to the casserole.
6. Mayonnaise – Mayonnaise helps to bind the ingredients together and adds a subtle tang.
7. Cheddar cheese – Sharp cheddar cheese adds a delicious, cheesy flavour to the casserole.
8. Bread crumbs – Bread crumbs create a crispy, golden topping that adds texture to the casserole.
Step-by-Step Instructions for Making Squash Casserole
Now that you have all the ingredients ready, let's dive into the step-by-step process of making the perfect squash casserole:
1. Preheat your oven to 350°F (175°C).
2. Wash the squash thoroughly and slice it into thin rounds. Set aside.
3. In a large skillet, melt the butter over medium heat. Add the onions & garlic, and sauté until they become translucent and fragrant.
4. Add the sliced squash to the skillet and cook until it becomes tender, stirring occasionally.
5. In a separate bowl, combine the sour cream, mayonnaise, and shredded cheddar cheese. Mix well until all the ingredients are fully incorporated.
6. Add the cooked squash, onions, and garlic to the bowl with the sour cream mixture. Mix until everything is well combined.
7. Transfer the mixture to a greased baking dish and spread it evenly.
8. In a small bowl, combine the bread crumbs and melted butter. Sprinkle the mixture over the top of the casserole.
9. Bake the squash casserole in the preheated oven for 25-30 minutes or until the top is golden brown & the casserole is bubbling.
10. Remove from the oven and let it cool for a few minutes before serving. Enjoy!
Tips and Tricks for a Delicious Cracker Barrel Squash Casserole Recipe
To take your squash casserole to the next level, here are some tips and tricks to keep in mind:
1. Use a combination of yellow squash and zucchini for a colourful and flavorful casserole.
2. Don't overcook the squash before adding it to the casserole. It should still have a slight bite to it, as it will continue to cook in the oven.
3. Experiment with different types of cheese. Gruyere, Monterey Jack, or even Parmesan can add a unique twist to the casserole.
4. Add some crunch by mixing chopped pecans or breadcrumbs into the casserole mixture.
5. For a healthier alternative, substitute mayonnaise with Greek yoghurt or cream cheese.
6. If you like a little heat, add a pinch of cayenne pepper or a diced jalapeño to the casserole for a spicy kick.
7. Let the casserole rest for a few minutes before serving to allow the flavours to meld together.
#crackerbarrel #squashcasserole #southerncooking #southernrecipes #comfortfood #homemade #recipe #foodie #foodblog #foodblogger #foodphotography #foodstagram #foodlover #foodgasm #foodporn #yum #delicious #tasty #vegetarian #vegetarianrecipes #sidedish #casserolerecipe #southernfood
Archives
Categories
Recent Posts