Delicious Keto Recipes for a healthy lifestyle
How to Make Fermented Idli Batter-The Open Magazine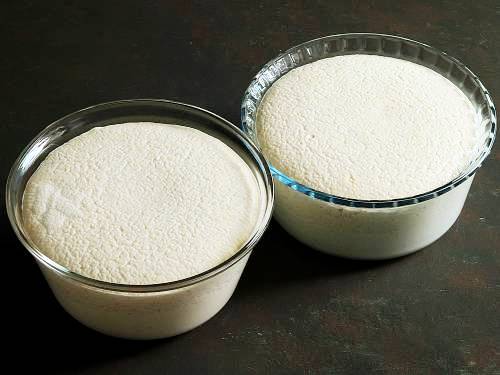 Fermented Idli Batter. Are you craving a delicious breakfast & are you looking for a healthy and delicious breakfast to start your day? Then this fermented Idli Batter is a scrumptious breakfast for you.
This fermented Idli batter is delicious and also loaded with many health benefits.
Did you fermentation is a process that increases the nutritional value of food. By fermenting Idli batter, we can create a probiotic-rich food that improves our digestion, increase immunity & also promote weight loss.
Plus, fermented foods also reduce inflammation, improve mental health and lower cholesterol levels. So try this healthy breakfast into your morning routine and unlock the health benefits of fermented idli batter.
With only fewer ingredients you can enjoy a nutritious meal that will healthily start your day.
What is idli batter?
Idli Batter is usually used to make idlis & it is a mixture of rice and urad dal.
Idlis are light in weight, fluffy & have a little bit of a sour taste.
We can make idli batter by soaking rice and urad dal in a different bowl for two hours & then blending them & making sure the mixture would be fermented' for several hours.
Tips for storing and using fermented idli batter:
We can store fermented idli batter in the refrigerator for up to 3 to 4 days.
Make sure to cover it with a lid or plastic wrap to prevent the batter from drying out.
You can also add vegetables to the batter to make different flavours.
Fermented idli batter recipes:
In the given below "I have attached some of the recipes you can try:
 Idlis
Ingredients:
– Fermented idli batter
– Water
– Salt
How To Ferment Idli Batter in Instant Pot
1  In the first step 'grease the Idli plate with oil or ghee.
2  Take a steamer and add water to it and boil it.
3  With the help of a scoop, add the amount of idli batter & add water as per requirement & make sure the batter should be neither too thick nor too thin.
4  Add salt according to your taste.
5  Grease the idli plate with little oil and pour batter into the idli plates.
6  Make sure to fill each mould around 3/4 full.
7  Now place the idli plate into the steamer and let it steam for 15 to 20 minutes or till the Idli is cooked well or till the toothpick comes out clean.
8  When the 'Idli is cooked well remove the idli plate from the steamer and let it cool for a few minutes.
9  With the help of a spoon or knife' remove the idlis.
10  Serve hot with sauce, chutney or with sambar.
Nutritional value of idli batter
Idli batter is a low-calorie, low-fat, and low-cholesterol food that is packed with nutrients. A single idli contains approximately 70 calories, 2 grams of protein, and 1 gram of fat. It is also a good source of dietary fiber and contains no sugar.

The nutritional value of idli batter can vary depending on the type of rice and dal used, as well as the fermentation process. It is important to use high-quality ingredients and allow the batter to ferment for the recommended amount of time to maximize its nutritional value.
Conclusion:
Fermented idli batter is a scrumptious and healthy way to start your day. It has a great taste & it is also loaded with many health benefits.
It also improves our digestion, increases our immunity & also promotes weight loss. So try this healthy recipe into your diet and healthily start your day!
Frequently asked questions about fermented idli Batter
Can I use any type of rice and dal to make idli batter?
Yes, it is possible to use various kinds of rice and dal to make idli batter. We recommend you use parboiled rice and whole urad dal for good results.
 How long does it take for idli batter to ferment?
It usually takes 10 to 12 hours to ferment properly & it also depends on the humidity. In colder areas, it takes longer to ferment.
Can I freeze fermented idli batter?
Yes, we can freeze the batter for 3 to 4 days.
Archives
Categories
Recent Posts