Keto beef taco soup is an instant pot. This recipe is quick and easy.
At less than 6 net carbs per servings, this keto creamy beef taco soup will be your new favourite.



Are you having craving for some soup on the cold- weather night?
Try this keto taco soup that is bursting with flavour and fillings.
The whole family will absolutely love even if they are not watching their weight too.
https://www.youtube.com/channel/UCiGYsZu4I7g_L-2FxLMj_Ug



Our YouTube channel link.
Please give us yours full support and love please like, share and subscribe to us.
Ingredients required for Keto ingredients for taco soup:
    1 lb. ground beef or turkey or chicken
    One tbsp. oil of choice
    1 small onion diced



    2-3 cloves garlic minced
    1 small green bell pepper diced (optional)
    1 (10 oz.) can Rotel tomatoes or 1 large tomato, chopped
   One (8 oz.) pkg cream cheese OR 1 cup heavy cream
   2 tablespoons taco seasoning homemade or 1 packet



   Salt and pepper to taste
   1 (14.5) oz. can beef broth 1.5 cups
How to prepare Keto beef taco soup:/ taco soup recipe ground beef
1    Take a large skillet over medium high heat and add 1 tablespoons of oil.
2   When heated up the oil add brown beef, onion and garlic and sauté well till beef is browned enough.



3    Now we have to add bell pepper, chopped tomatoes, cream cheese and spices and stir well till tomatoes are soft.
4    Now we have to pour this into beef broth and keep the flame low and cook for 10 to 15 minutes.
5   Pour this into small bowls and sliced with avocado, sour cream, shredded cheese and drizzle of lime.
6   Enjoy!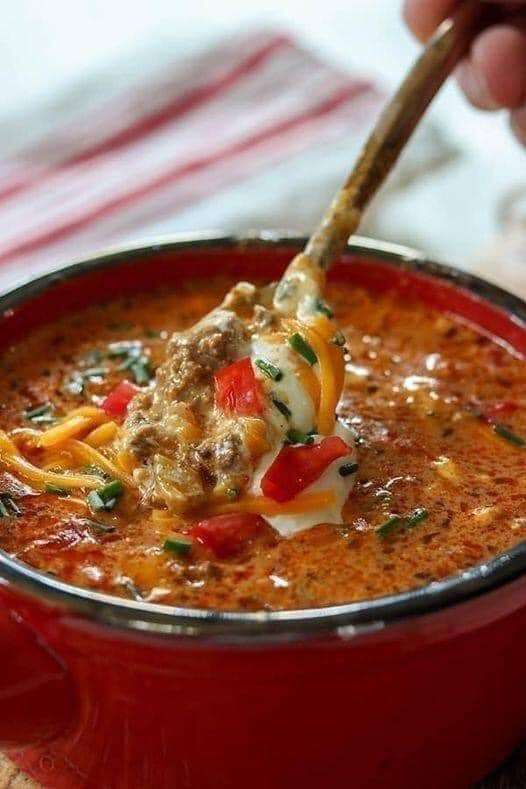 Nutritional Information for Keto creamy beef taco soup:
Serving: 1serving | Calories: 347kcal | Carbohydrates: 5g | Protein: 21g | Fat: 27g | Saturated Fat: 9g | Cholesterol: 81mg | Sodium: 584mg | Potassium: 437mg | Fiber: 1g | Sugar: 2g | Vitamin A: 186IU | Vitamin C: 18mg | Calcium: 36mg | Iron: 3mg
Recipe: Keto Cinnamon Roll Cookies low carb and gluten-free