Keto Cinnamon Roll Cookies. These Crunchy Keto Cinnamon Swirl Cookies are an oldie but goodie.
Please subscribe to our YouTube channel. Please support us so that we can make more delicious videos.



https://www.youtube.com/channel/UCiGYsZu4I7g_L-2FxLMj_Ug
I make these every Christmas. These delightful, buttery Cinnabon Cookie Recipe swish in cinnamon are totally tempting.
It is soft and moist on the inside, and crispy around the edges.
These flavorful cookies are made with almond flour that gives them their quality crunch, and they are loaded with cinnamon flavour.
It is the recipe for people on the low carb diet or a person with a sweet tooth, for that occasion.



You must try this recipe.
Ingredients required for Keto Cinnamon Roll Cookies:
COOKIE:
   3/4 cup (150g) butter – room temperature
   Half cup (100 gram) sugar substitute
   1 egg



   1 tsp. vanilla extract
   ¼ cups (175 grams) almond flour
   2 tbsp. whey isolate
  1 tsp. baking soda
   5 tsp. cinnamon
  1/4 tsp. xanthan gum (optional)
FROSTING:
  2 tbsps. cream cheese



  2 tbsp. powdered sugar substitute
  1 tsp. vanilla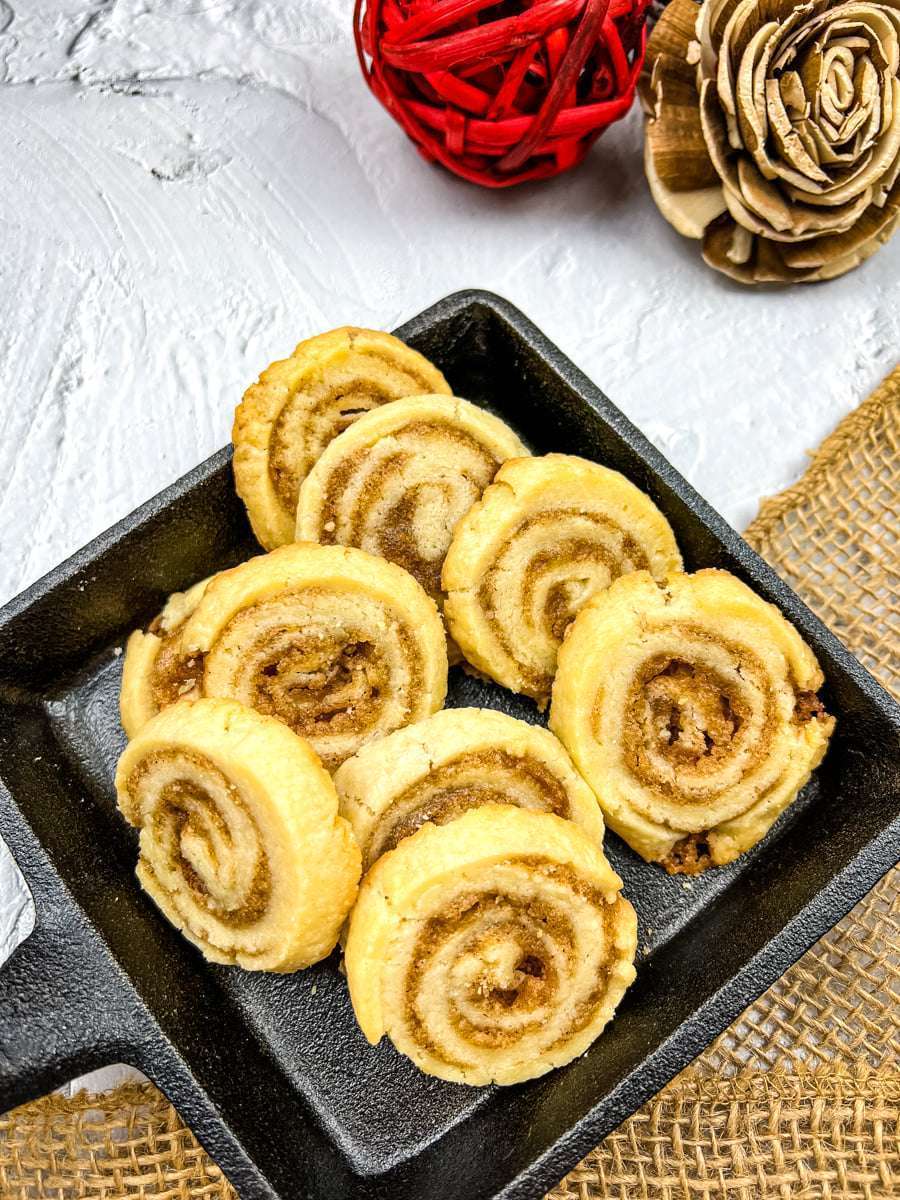 How to prepare Keto Cinnamon Roll Cookies:
1   Take a large bowl and use a hand mixer and add butter, vanilla and sugar substitute and make it cream.   
2  Now in the same bowl add beaten eggs and mix well till well combined.



3  Now we have to add almond flour, cinnamon, whey isolate, xanthan gum and baking soda and mix well.
4  We have to mix the dough and make sure there are no lumps in it.
5  Take a baking dish and add parchment paper to it and grease it with melted butter.
6  With the help of your hands divide the dough into small portions and take one portion and make a ball and put it into the baking sheet and press the ball with fingers.
7  Do the same process with the remaining portions.
8  Bake it for 180 °C for 10 to 15 minutes or till it turns brown.



9  Now we have to mix the frosting ingredients till it is smooth.
10  Allow the cookies to cool before serving.
Nutritional Information for Keto Cinnamon Roll Cookies:
   CALS: 105
   FAT: 10
   CARBS: 1.8
   FIBRE: 0.8
   NET CARBS: 1
  PROTEIN: 3.1
   Recipe: Can we eat fruits in the keto diet? Can we eat apples on the keto diet?