Delicious Keto Recipes for a healthy lifestyle
Keto Chicken Avocado Quesadilla, Low Carb Quesadilla Recipe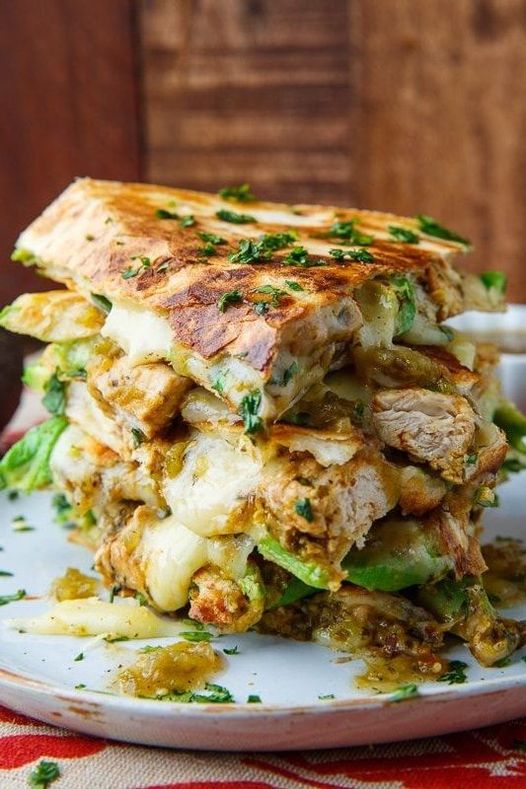 Keto Chicken Avocado Quesadilla filled to the brim with chicken, mashed avocado and cheese; this traditionally high-carb delicacy can be yours in minutes and completely guilt-free! Use store-bought low-carb tortillas or make your almond flour tortillas, fill up & then grill for easy lunch or dinner option.
"Looking for a delicious and satisfying Keto meal? Try making a Keto Quesadilla with Chicken & Avocado! While traditional quesadillas may not fit into a low-carb diet, this recipe swaps out high-carb ingredients like refried beans for mashed avocado. The result is a tasty & filling meal that is perfect for lunch or dinner. And the best part? It's easy to make, so you can enjoy a delicious meal without spending hours in the kitchen. Give it a try and see for yourself!
Ingredients required for Keto Quesadilla with Chicken & Avocado:
  1 Almond Flour Tortilla or any low-carb tortilla
  ½ avocado
  ¼ lime
  1 Pinch of sea salt
  1 tbsp. cream cheese
  ¼ cup cooked chicken
  ¼ cup shredded Mexicana cheese
Optional
  Low Carb Refried Beans
  cilantro
  salsa
  sour cream
How to Prepare Keto Quesadilla with Chicken & Avocado:
1    Try making a keto quesadilla! Start by heating your sandwich grill on medium-high heat. Then, scoop out some Avocado into a bowl and squeeze some lime juice over it. Add a pinch of sea salt & mash it all together until fully blended.
2   Start by spreading mashed avocado over one-half of the surface. Then, on the other half' spread a generous layer of smooth and tangy cream cheese. 
3  After cooking the chicken, shred it & place it on top of a layer of cream cheese. Sprinkle shredded cheese on top of the chicken, leaving a small border around the edge. For added flavour, consider adding some minced cilantro to the dish.
 4   Take the tortilla & fold it in half, Making sure that the side with the guacamole' is covering the side with the cream cheese and all the other fillings.
5  "Simply place it on a heated sandwich grill and grill for a few minutes until the cheese is hot and melty. For an extra kick, serve with some sour cream and salsa on the side. Enjoy this low-carb and tasty treat!
 Important Notes: Keto Chicken Avocado Quesadilla
1    To make things even easier, make a big batch of tortillas and store them in the freezer for later use. Just remember to layer them with parchment paper to prevent sticking & allow them to thaw at room temperature before assembling your quesadilla. It's a quick and tasty meal that is perfect for any time of day!
2    When making a cheesy tortilla, It is important to leave some space around the edges. This is because as the cheese melts, it will spread outwards & potentially spill over the sides. By leaving a bit of space, you can ensure that you don't lose any of that delicious melted cheese.
Nutritional Information: Keto Chicken Avocado Quesadilla
Serving: 1quesadilla, Calories: 543kcal, Carbohydrates: 17.7g
Protein: 24.1g, Fat: 42.7g, Sodium: 621mg, Fiber: 12.8g
Archives
Categories
Recent Posts