Delicious Keto Recipes for a healthy lifestyle
Keto Chicken Cheese Bake, Healthy Recipe Blog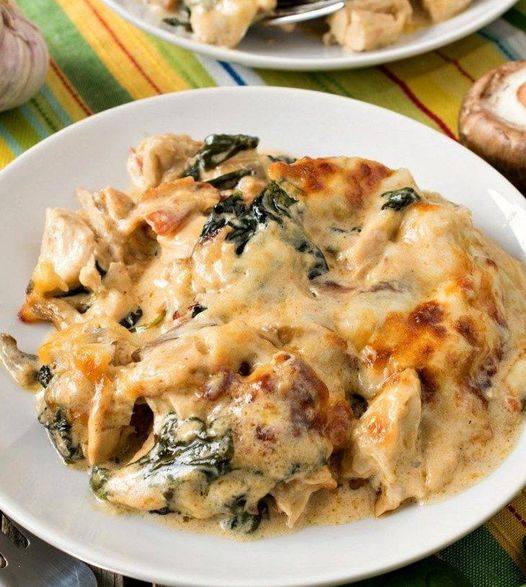 Keto Chicken Cheese Bake. Looking for a delicious keto-friendly dinner? Let us introduce you to this Keto Chicken Cheese Bake! It's packed full of flavour with the addition of succulent chunks of chicken, bacon, mushrooms & spinach atop a creamy sauce. A must-make!
Craving a cheesy, low-carb dinner? Look no further! Keto Chicken Cheese Bake is the perfect dish since it packs in all the flavour and goodness of chicken, spinach, bacon, mushrooms and four kinds of cheese. Plus with the creamy sauce on top, you won't have to give up any deliciousness while still enjoying a ketogenic meal!
Ingredients required for Keto Chicken Cheese Bake:
1 pound bacon
8-ounce package of cream cheese
1/2 cup grated Parmesan cheese
1 1/2 cups sharp cheddar cheese, shredded
1/3 cup avocado mayonnaise
1 cup heavy cream
1/2 teaspoon hot sauce, we used Cholula
1, Teaspoon dry mustard
1/2 teaspoon white pepper
Half a teaspoon of garlic powder
1/2 teaspoon onion powder
1/2 teaspoon paprika
1, Store-bought cooked rotisserie chicken, meat removed and chopped into bite-sized pieces
1 1/2 cups red onion, diced
8 ounces of baby bella mushrooms, sliced
1, Tablespoon of fresh garlic, minced
8 ounces of baby spinach
2 cups mozzarella cheese, shredded
How to prepare Keto Chicken Cheese Bake:
1    Preheat your oven to 375°F (190°C) and get ready to make a delicious Keto Chicken Cheese Bake!
2    Start by cooking some bacon until it's crisp, & then set it aside. Don't forget to reserve three tablespoons of bacon fat before you finish!
3    Start by cooking bacon & then create a tasty sauce with cream cheese, Parmesan cheese, cheddar cheese, avocado mayonnaise, heavy cream, hot sauce, mustard, pepper, garlic powder and onion powder. 

4    Heat a skillet over medium heat and add chicken. Stir with a wooden spoon until cooked through. Crumble the bacon and add to the pan, stirring until it is well combined with the creamy sauce.
5   In a clean start, off by heating 2, Tablespoons of bacon fat in a skillet over medium-high heat & sautéing onions until they are lightly browned.
6  Heat a tablespoon of bacon fat in a pan and add mushrooms. Sauté for five minutes until tender.
7   For this delicious Keto Recipe Bake, start by heating a mixture of cream and cooked chicken before pouring it into an 8X12-inch casserole dish.
8   Sprinkle with two cups of mozzarella cheese & bake for 20 minutes. Enjoy!
9   For a crunchy, cheesy topping on the Keto Chicken, place the dish under the broiler for 1-2 minutes to brown.

10  Ready in just ten minutes, this Chicken Bake is a savoury dish that yields 10, Delicious portions of low-carb goodness.
11   To accompany the meal, spoon a little of the liquid that forms on the bottom over each portion. Enjoy!
Nutritional Information for Keto Chicken Cheese Bake:
Total Fat 43.9g 56%  Saturated Fat 20.4g Trans Fat 0.5g Polyunsaturated Fat 4.9g
Monounsaturated Fat 14.7g 0% Cholesterol 129.3mg 43% Sodium 753.8mg 33%
Total Carbohydrate 7.7g 3% Dietary Fiber 1.5g 5% Sugars 3.8g Protein 29.6g59%
Archives
Categories
Recent Posts