Delicious Keto Recipes for a healthy lifestyle
How to Make Perfect Keto Crack Chicken Tenders in 30 Minutes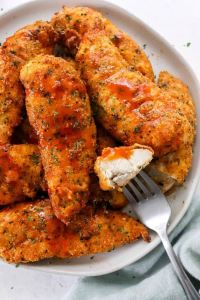 Are you looking for a delicious and easy-to-make dish that is perfect for your keto diet? Look no further than these delicious Keto Crack Chicken Tenders! With just a few simple ingredients and 30 minutes of your time, you can whip up a batch of tender, juicy chicken that is stuffed with flavour and keto-friendly.
Weight loss Tips: Keto Almond Flour Roti Recipe or Weight Loss Roti At Home
Not only are these chicken' tenders a great option for lunch or dinner, but they also make a fantastic appetizer for your next gathering. So, what are you waiting for? Follow our step-by-step guide and learn how to make the perfect keto-crack chicken tenders in just 30 minutes. Get ready to impress your taste buds and your guests with this irresistible dish!
Ingredients for Keto Crack Chicken Tenders:
To make the perfect keto crack chicken tenders, you'll need the following ingredients:
– 1 pound boneless, skinless chicken tenders
– 1 cup almond flour
– 1/4 cup grated parmesan cheese
– 1 tablespoon garlic powder
– One tablespoon onion powder
– 1 teaspoon paprika
– 1/2 teaspoon salt
– 1/4 teaspoon black pepper
– 2 eggs
– 1/2 cup mayonnaise
– 1/4 cup hot sauce
– 1/4 cup unsweetened almond milk
Step-by-Step Instructions for Making Keto Crack Chicken Tenders
1. Preheat your oven to 400 degrees F.
2. In a bowl, mix the almond flour, parmesan cheese, garlic powder, onion powder, paprika, salt, and black pepper.
3. In another bowl, beat the eggs.
4. Dip each chicken tender in the egg mixture, & then coat it in the almond flour mixture.
5. Place the chicken tenders on a baking sheet lined with parchment paper.
6. Bake for 20-25 minutes or until the chicken is cooked through and the coating is crispy.
7. While the chicken is baking, mix the mayonnaise, hot sauce, and almond milk to make the dipping sauce.
8. Serve the chicken tenders hot with the dipping sauce on the side.
Tips for Cooking Perfect Chicken Tenders
Here are some tips to help you cook perfect chicken tenders every time:
1  Pound the chicken tenders to an even thickness before cooking to ensure they cook evenly.
2  Use a meat thermometer to check the internal temperature of the chicken. It should reach 165 degrees F.
3  For extra crispy chicken tenders, spray them with cooking spray before baking.
Nutritional Information
Calories: 319.5
Total Fat: 23.0 g
Dietary Fiber: 0.3 g
Monounsaturated Fat: 5.8 g
Archives
Categories
Recent Posts