Delicious Keto Recipes for a healthy lifestyle
HEALTHY KETO EGGPLANT PARMESAN RECIPE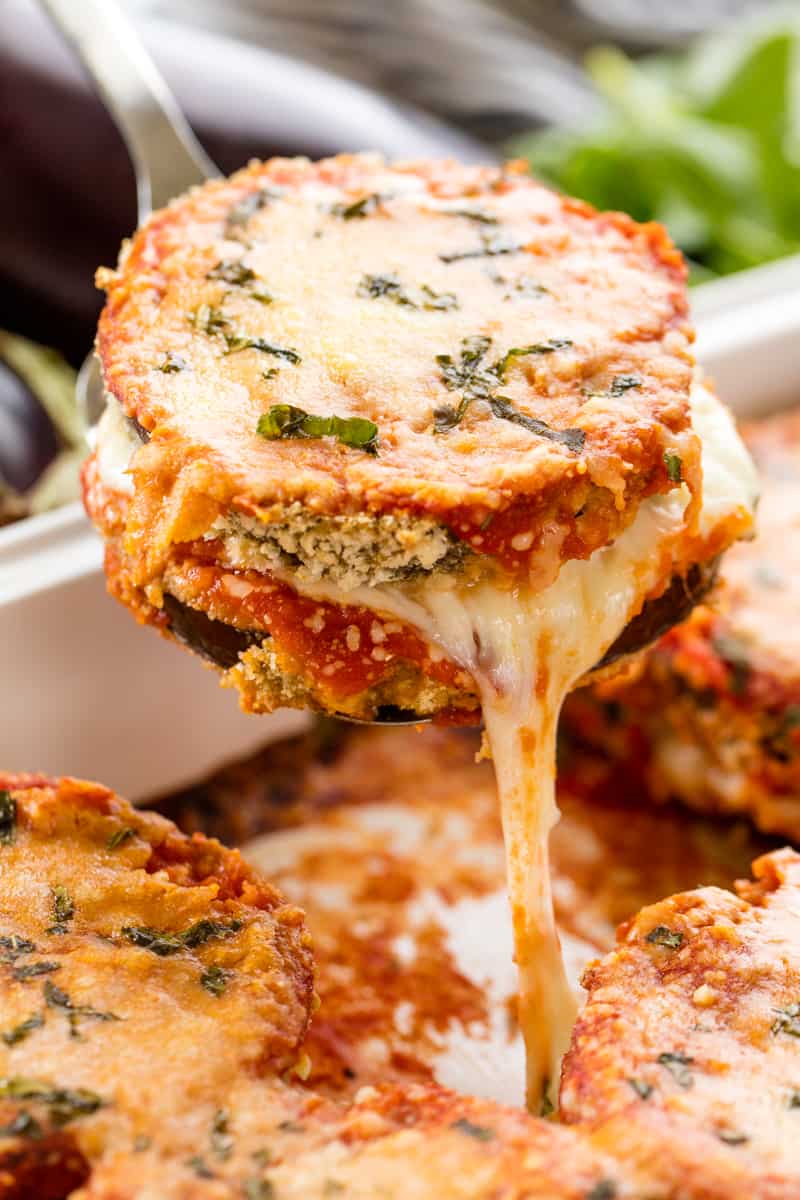 KETO EGGPLANT PARMESAN RECIPE
"Wondering if eggplant parmesan is keto-friendly? The answer is yes! Eggplant itself is keto-friendly, & with the right ingredients, this Eggplant Parmesan recipe can fit into your keto diet. Instead of using high-carb wheat flour to bread the eggplant slices, we use a combination of Almond Flour, coconut flour & pork rinds. If any of these ingredients don't work for you, be sure to read through the FAQ section below for some alternatives.

Eggplant is a nutritious vegetable that's perfect for incorporating into a variety of dishes. During the summer months, when it is in season, eggplant is especially' delicious & prepared as keto or low-carb parmesan. While eggplant' is often thought of as an exclusive summertime treat, it can be found year-round at most grocery stores and enjoyed no matter the time of year!
WHAT IS EGGPLANT PARMESAN?
Eggplant Parmesan is an Italian dish consisting of breaded slices of eggplant topped with tomato sauce, parmesan cheese, and other ingredients such as mozzarella or basil. The Dish is usually baked in the oven until the cheese melts, producing a savoury, flavourful dish. It is a popular main course or side dish that can easily be adapted to suit different tastes and preferences.
Ingredients required for KETO EGGPLANT PARMESAN RECIPE:
EGGPLANT:
2 large Eggplant (~2 lb.; sliced into 1/2-inch-thick rounds)



Sea Salt
BREADING:
  1/4 cup Coconut flour
  4 Large Eggs (beaten)
  3 oz. Pork Rinds (crushed; ~2 cups crushed)
  1 cup Almond flour



  1/2 cup Grated Parmesan Cheese
  1 tbsp. Italian Seasoning 
 3/4 tsp. Garlic Powder 

 1/4 tsp. Black Pepper
ASSEMBLY:
  2 cups Marinara Sauce (no sugar added)



  24 oz. Fresh mozzarella cheese (sliced into 1/4-inch-thick rounds)
  Fresh Basil (optional; cut into ribbons)
How to prepare KETO EGGPLANT PARMESAN RECIPE:
1    For an optional preparation step, lay out the sliced eggplant on cutting boards or baking sheets and generously sprinkle it with salt. Allow the eggplant to sit for one hour so that it sweats out some of its bitterness. After the hour has passed, rinse off the salt and pat dry for a less bitter dish.

2   Preheat the oven to 400 degrees Fahrenheit (204 degrees Celsius). Place parchment paper onto a large baking sheet or two small sheets.



3   To get started, you all need three shallow dishes: The first bowl should contain coconut flour; the second should hold beaten eggs; and the third will be a mixture of pork rinds, almond flour, grated Parmesan cheese, Italian seasoning, garlic powder, and black pepper.
4   Start by dredging the eggplant slices in a thin layer of coconut flour & then follow up by dipping them into beaten eggs. Finally, press the slices into a bowl of the breadcrumb mixture. Once prepped, place the slices onto an ungreased baking sheet without touching each other.
5   To bake eggplant slices, preheat the oven to 400F and place the slice on a lightly greased baking sheet. Bake for 25-30 minutes, until tender when pierced with a fork and lightly golden in colour.



6   To make an eggplant parmesan casserole, spread 1/2 cup (118 ml) of marinara sauce over the bottom of a 9×13 stoneware casserole dish. Arrange the eggplant slices in a single layer and top with 3/4 cup (177 ml) of marinara sauce and half of the mozzarella slices. Repeat this by layering the remaining eggplant slices with another 3/4 cup (177 ml) of marinara sauce and mozzarella cheese.
7   Bake for 15-20 minutes until the cheese is melted & bubbly. Serve hot and garnished with fresh basil if desired.
Nutritional Information for KETO EGGPLANT PARMESAN RECIPE:
Calories543
Fat36.2g
Protein36.6g
Total Carbs19.8g
Net Carbs12.3g
Fiber7.5g
Sugar8.8g
Archives
Categories
Recent Posts