Delicious Keto Recipes for a healthy lifestyle
The Ultimate Guide to Making Homemade Keto Granola Bars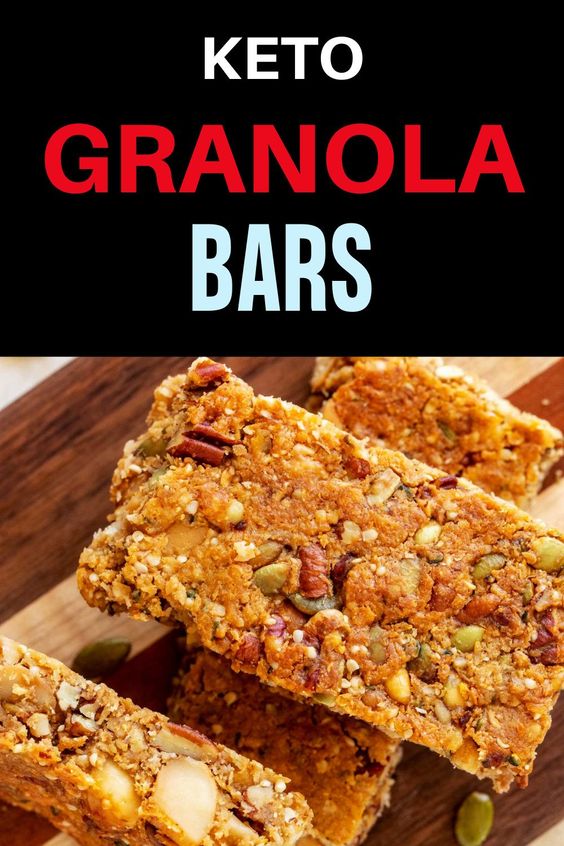 Keto granola bars are a popular snack option for those following a ketogenic diet, which is a low-carbohydrate, high-fat diet designed to promote fat-burning and weight loss. These granola bars are crafted with ingredients that are low in carbohydrates and rich in healthy fats, making them suitable for individuals aiming to maintain ketosis.
Ingredients required for KETO GRANOLA BARS:
1 cup flaked coconut

1 cup raw almonds

½ cup raw pecan halves

½ cup shelled pumpkin seeds or sunflower seeds

2 tablespoon grass-fed collagen

½ teaspoon salt

½ cup butter

⅓ cup  powdered swerve sweetener

2 tablespoon  swerve brown

½ teaspoon vanilla extract

⅓ cup dark chocolate chips(sugar-free) (optional)
How to prepare KETO GRANOLA BARS:
1 Firstly preheat your oven to 300F and then line an 8×8 inch metal pan with parchment paper on it.
2 Take a food processor and add coconut, almonds, pecans and pumpkin seeds and blend it till the mixture forms into crumbs in texture.
3 Now add collagen and salt and mix it well to combine and then put it all into a large bowl.
4 Take a saucepan over low heat and add butter to it melt the butter add sweeteners and whisk it well till they dissolve well and stir in the vanilla extract.
5 Now place these butter mixtures into the nut mixture till well combined and then add chocolate chips and transfer it to the prepared baking pan.
6 With the help of your hands press into the bottom of the prepared baking pan and press it as much as possible.
7 Bake for around 20 to 25 minutes till the edges are golden brown.
8 Allow it to cool fully and then with the help of a knife cut them into bars.
Nutritional Information:
Fat 23.8g 37%
Cholesterol 15mg 5%
Carbohydrates 7g 2%
Fiber 4.4g 18%
Protein 7.5g 15%
Archives
Categories
Recent Posts