Delicious Keto Recipes for a healthy lifestyle
How to Make Keto Honey Garlic Chicken in 30 Minutes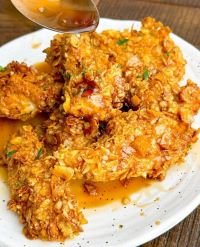 This Keto Honey Garlic Chicken is a great recipe for those new to keto, low carb or gluten-free lifestyles. It is extremely simple and easy to follow, making it a perfect starting point for those new to these diets. I guarantee you will love it!

Weight loss recipe:Keto Almond Flour Roti Recipe or Weight Loss Roti At Home
Looking for a delicious low-carb meal? Try this Keto/Low Carb Honey Garlic Chicken recipe! You can use either chicken breast or boneless thighs, but the thighs tend to stay juicy and tender. If you opt for chicken breast, make sure to pound it thin so that it cooks evenly. And when making the sauce, skip the chicken broth to prevent the breast from drying out. This recipe is super easy and sure to be a hit!
Ingredients required for KETO/ LOW CARB HONEY GARLIC CHICKEN:
For the chicken
1 lb boneless skin-on chicken thighs
1 tbsp avocado oil
Himalayan salt to taste
pepper
 For the Sauce

1/4 cup chicken broth
3 tbsp coconut aminos tamari for gluten-free or low-sodium soy sauce
4 tbsp sugar-free honey substitute
2 cloves garlic minced
1/2 tsp ground ginger
1/2 tsp pepper
1 scallion greens and whites divided. Use the white parts for sauce and the green parts for garnishing
1/ tsp sesame seeds
HOW TO PREPARE KETO/ LOW CARB HONEY GARLIC CHICKEN:
 1  To make a delicious keto/low-carb honey garlic chicken dish, start by seasoning the skin side of the chicken with some salt and pepper.

2  Start by heating up a tablespoon of avocado oil in a skillet over high heat.
3  Start by cooking the chicken with the skin side down until it is browned and the skin is crispy.
4  start by seasoning both sides of the chicken
5  Cooking the chicken on both sides for a total of 4 minutes, flipping it after 2 minutes to ensure even cooking.
6  To make the sauce, simply whisk together the ingredients (including the whites of the scallion) in a bowl. This flavorful dish is sure to satisfy your cravings without breaking your diet.
7   Start by removing any excess fat from the pan before cooking.
8 Simply pour the sauce mixture over the chicken and cook until it thickens, creating a flavorful and satisfying meal.

9 Garnish with some chopped scallions
10  Start by cooking the chicken in a pan until it is fully cooked. Once done, transfer the chicken to a cutting board and slice it into bite-sized pieces for easy serving and enjoyment.
11  This delicious keto/low-carb honey garlic chicken dish is best served with its pan juices and a side of cauliflower rice and steamed broccoli. Enjoy a healthy and satisfying meal that's both flavorful and nutritious!
NUTRITION
Serving: 1chicken thigh Fiber: 10.2g Calories: 304kcal
Fat: 16.9g Protein: 26.9g Carbohydrates: 17.2g
Archives
Categories
Recent Posts