Keto Meatball Sub. The Low Carb Meatball Subs is about to hit the oven. This Quick Meatball Subs recipe is great for appetizers or dinner the whole family will love!



These are so easy and perfect to feed the full family or for game day snacks.
They are the perfect Low Carb Italian Meatball Sub way to enjoy your favourite sandwich.
What are you eating tonight?
https://www.youtube.com/channel/UCiGYsZu4I7g_L-2FxLMj_Ug
This is our YouTube channel link.
If you like our videos please like, share and subscribe to us.
Ingredients required for Keto Meatball Sub:
For the meatballs: meatball sub-ingredients
1 pound of ground beef
One clove of garlic crushed



1/4   teaspoon dried basil
1/4teaspoon dried oregano
1/4teaspoon black pepper freshly ground
Half teaspoon salt
For the dough: Keto Meatball Sub
1 1/2cup super fine almond flour
1 teaspoon xanthan gum
1/4 teaspoon salt
1/4 teaspoon dried oregano



2 teaspoons baking powder grain-free and aluminium free
1 large egg
1-ounce cream cheese room temperature
2 cups finely grated, part-skim mozzarella cheese
For the assembly: Homemade Meatball Subs
4 tablespoons spaghetti sauce
4 slices of provolone cheese cut in half
2 teaspoons fresh basil chopped (optional)



1 tablespoon grated or finely chopped provolone cheese (optional)
Killer Recipe: Olive Bacon And Cheese Bread, Easy & Quick Homemade Bread
Easy meatball subs. How to prepare:
For the meatballs: Meatball Hoagie
1  Firstly, take a medium bowl and add ground beef, garlic, basil, oregano, pepper and salt and mix well till well combined.
2  We have to make a smooth dough and leave it for 5 to 10 minutes to set it aside.
3  Now divide the dough into small portions and make balls of each portion.
4  Take a large skillet over medium-high heat and add coconut oil.



5  When heated up the oil add meatballs and cook well.
6  Don't allow meatballs to touch the skillet.
Simple Recipe: Low Carb Calzone Recipe, Easy & 1 Of My Best Recipe
For the dough: Keto Meatball Sub
1   Firstly, we have to preheat our oven to 200C.
2  Now take two pieces of parchment paper about 20 inches long and rolling pin.
3  Now we have to take a saucepan with a mixing bowl that fits on top.
4  Now we have to fill the lower part of the boiler with water and place it over high heat.



5  When water is boiling keep it on low flame.
6  Take a mixing bowl and add almond flour, xanthan gum, salt, oregano, and baking powder add beaten eggs and mix well till well combined.
7  Now add cream cheese and mozzarella cheese and mix well till well combined.
8 Now put this mixture in another bowl and put the bowl over the simmering water.
9 Now we have to put this dough into the between of parchment paper.
10  With the help of your hands mix the dough.
11  Make the dough into a rectangle shape and cover it with parchment paper.



12  We have to roll into a rectangle shape around 10″ X 14″.
13 Now we have to put this containing dough parchment paper into the cutting board.
14  With the help of a knife cut the dough into half crosswise and then into half lengthwise and create 4 equal sections.
15  On each section we have to place two halves of the provolone cheese, then arrange 4 meatballs lengthwise over top.
16 With the help of a spoon top spaghetti sauce over the 4 meatballs on each rectangle.
17  Now sprinkle with basil and grated provolone.



18 Bake it in preheated oven for 10 to 15 minutes.
19  Serve!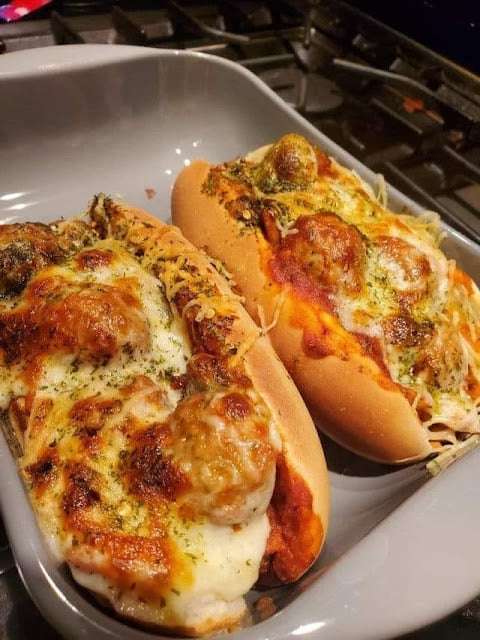 Nutritional Information for Low- carb meatball subs:
Per serving:
Calories: 369
Fat (g): 27
Carbs (g): 6
Fibre (g): 3
Protein (g): 28
Net carbs (g): 3
Recipe: Keto hoagie rolls recipe-best and delicious recipe