Delicious Keto Recipes for a healthy lifestyle
Low Carb Chicken Parmesan Skillet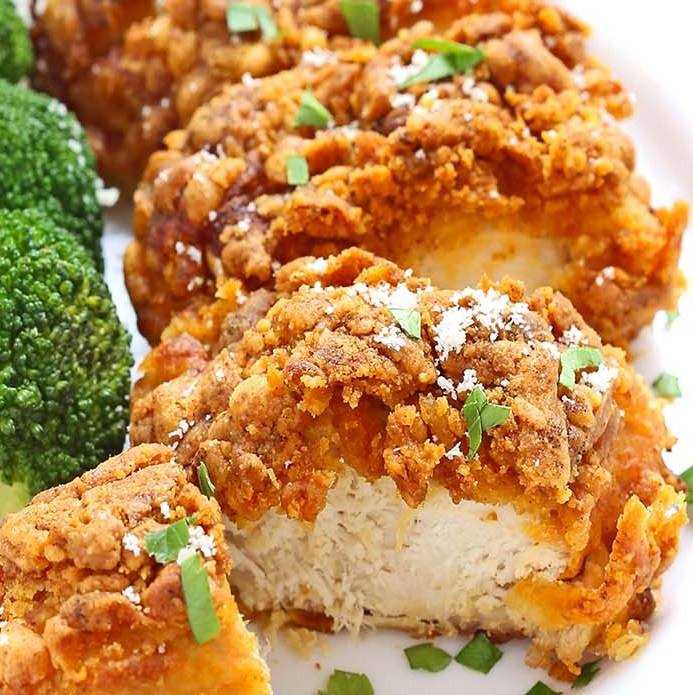 Low Carb Chicken Parmesan Skillet. Looking for a delicious and healthy dinner option? Try this Low Carb Chicken Parmesan Skillet! Made with juicy Chicken Breasts,
With homemade marinara sauce, & a layer of melted cheese, this dish is both flavorful and satisfying. And the best part? It is low in carbs, So you can indulge without the guilt. Perfect for a quick and easy weeknight meal, this recipe is sure to become a family favourite.
Ingredients required for Low Carb Chicken Parmesan Skillet
To prepare marinara sauce
 2 Tablespoon olive oil
 1 Medium yellow onion chopped
 One Teaspoon garlic minced
 ¼ cup tomato paste
 28 oz. can crush tomatoes
 1 Teaspoon Italian seasonings



 1 Teaspoon sugar
 One Teaspoon of red chilli flakes
 1 tsp salt & pepper
¼ cup fresh basil roughly chopped
To prepare chicken parmesan
 4 Whole boneless skinless chicken breasts
 ½ teaspoon paprika
 ½ teaspoon onion powder
 One Teaspoon of Italian seasoning
 ½ teaspoon salt

 ½ teaspoon ground pepper
 One Tablespoon of olive oil
 1 cup shredded mozzarella cheese
 Fresh basil to serve
How to prepare Low Carb Chicken Parmesan Skillet
1   To start, preheat your oven to 450 degrees Fahrenheit.
2   Start by seasoning your chicken with a blend of Paprika, onion powder, Italian seasonings, salt, and pepper.
3   Start by heating an oven-proof skillet over medium heat & adding some olive oil. Once the skillet is hot, sear your chicken breast on both sides for 4-5 minutes until golden brown.
4   This low-carb chicken parmesan skillet recipe calls for making your marinara sauce right in the same skillet you use to cook the chicken. To do this, heat some olive oil in the skillet & add in some chopped yellow onion and garlic. Cook for a few minutes until the onions become translucent and fragrant.

5   Start by adding tomato paste, crushed tomatoes, Italian seasonings, sugar, red chilli flakes, salt, and pepper to a saucepan. Let the sauce simmer for 10-15 minutes until it thickens. Then, remove the saucepan from the heat and add fresh basil leaves, mixing everything. Finally, set aside ½ cup of the marinara sauce for later use.

6  It involves transferring cooked chicken Breast back into a skillet with prepared marinara sauce. Once in the skillet, spread about 2 Tablespoons of marinara sauce over each chicken breast and top with mozzarella cheese, ensuring even coverage.
 7   "Simply place the skillet in the oven and bake for 20-30 minutes, depending on the size of your chicken. Once the cheeses are melted' & the chicken reaches an internal temperature of 165 F, 
8   Once cooked, top with fresh basil for a pop of flavour and serve hot.
 Points to be noted:
1   For a quick and easy Low Carb Chicken Parmesan Skillet, you can use store-bought Marinara Sauce. However, to ensure the best taste, it's recommended to opt for a high-quality jarred sauce or make your own. This will enhance the overall flavour of the dish & make it even more delicious.

 2   To ensure that the chicken stays moist and tender, be careful not to overcook it. Use a cooking thermometer to check that the internal temperature of the chicken has reached 165 F, which is the safe temperature for poultry. 
3   It's important to use freshly minced garlic for maximum flavour. Pre-minced garlic just doesn't compare!
Nutrition
Calories: 277kcal | Carbohydrates: 23g | Protein: 11g | Fat: 18g 
Polyunsaturated Fat: 2g | Monounsaturated Fat: 10g | Cholesterol: 23mg |
Sodium: 1450mg | Potassium: 854mg | Fiber: 6g | Sugar: 13g | Vitamin A: 1235IU |
Vitamin C: 24mg | Calcium: 246mg | Iron: 4mg | Saturated Fat: 5g |
Archives
Categories
Recent Posts