Delicious Keto Recipes for a healthy lifestyle
Keto Meatball Mozzarella Sticks – Delicious and Low-Carb!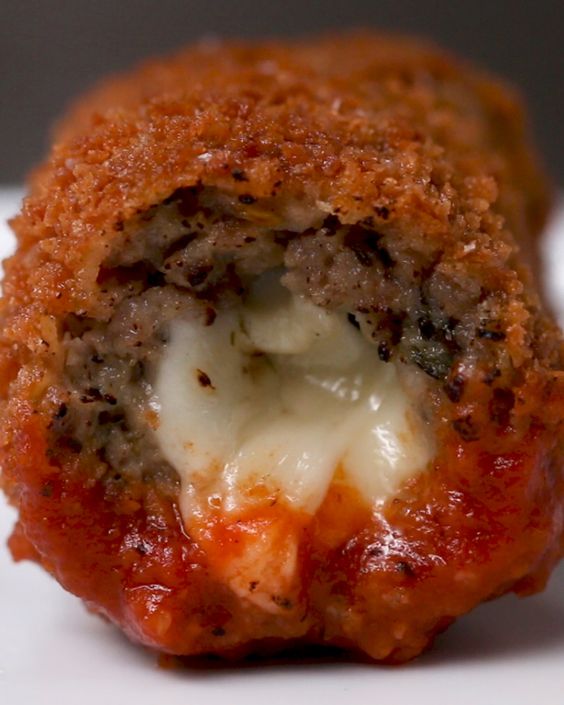 Meatball Mozzarella Sticks. Need a tasty, low-carb snack? Keto meatball mozzarella sticks are a delicious & healthy snack that fits into your Keto Diet perfectly. Craving something delicious and low-carb? Keto meatball mozzarella sticks are the perfect keto snack! Learn how to make this savoury, cheesy dish that is sure to tantalize your taste buds.
To make these delicious Keto Mozzarella Sticks even crispier & crunchier, try brushing on a layer of melted butter or egg wash before baking. This will help them hold their shape better and make them extra golden brown and tasty. As a bonus, you can sprinkle a bit of Parmesan Cheese for even more flavour. Serve your Keto Meatball Mozzarella Sticks with some Marinara sauce or your favourite keto-friendly dip — they'll be the perfect appetizer for any party, potluck, or family gathering.
These Keto Meatball Mozzarella Sticks are great for an appetizer, game day snack, dinner side dish, or even lunch the next day! The cheesy goodness from the mozzarella cheese will win over anyone & the ground beef gives these delicious snacks a rich flavour. Plus they're super simple and fast to make – no need to wait hours or days making them. If you have any extra keto-friendly ingredients lying around, feel free to throw those in as well; we love it when people get creative with recipes like this one.
Ingredients required for Keto Meatball Mozzarella Sticks 
Meatballs:
1 lb. Lean ground pork
0.5 lb. Lean ground beef
 1 tbsp. Italian seasoning 
 1 Egg
One tbsp. fresh parsley, finely chopped
1 tsp. salt
 0.5 tsp. ground black pepper
 12 oz. mozzarella cheese, cut into small cubes
Sauce:
1 tbsp. olive oil
 1/2 small onion, finely chopped
14 Oz crushed tomatoes, canned
1 Bay leaf 
1 Clove garlic, chopped
One tbsp. fresh parsley, or basil, finely chopped
1 tsp. black pepper
How to prepare Keto Meatball Mozzarella Sticks – Delicious and Low-Carb:
Make the Marinara Sauce
1. Take a pan over medium-high heat and add Olive Oil to it.
2. When heated up the Oil, add chopped onion and sauté it for 2 minutes.
3. Add the chopped garlic, crushed potatoes, bay leaf, black pepper, and fresh parsley to the pan and stir well.
4. Keep the flame low and heat it for 15 to 20 minutes & while we prepare and cook the meatballs.
Make the Meatballs
1. First, preheat your oven to 400F.
2. Take a sheet pan and add parchment paper to it, from this process meatballs do not stick into the pan.
3. Take a large bowl and add meat, egg and seasoning together in the bowl & mix it well till well combined.
4. Take a golf ball-sized piece of the meat mixture and place a cut piece of mozzarella in the middle then form a meatball around the cheese until it's fully enclosed leaving no gaps. Makes about 12 medium Meatballs.
5. Now bake it for 15 to 20 minutes at 400F or till the toothpick comes out clean.
6. Serve it with the homemade marinara sauce, sprinkle with chopped fresh parsley or basil and enjoy your dish. 
Nutritional Information for Keto Meatball Mozzarella Sticks:
Amount per Serving:
Calories 720 Calories from Fat 450/ % Daily Value*
Fat 50g77%/ Saturated Fat 22g138%/ Cholesterol 224mg75%/ Sodium 1363mg59%/ Potassium 927mg26%
Carbohydrates 11g4%/ Fiber 2g8%/ Sugar 5g6%/ Protein 53g106%
Archives
Categories
Recent Posts