Delicious Keto Recipes for a healthy lifestyle
Sambusa vs Samosa Which One Will Satisfy Your Cravings?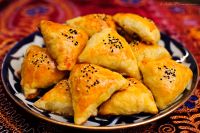 Sambusa vs Samosa. Do you love savoury snacks that are packed with flavour in every bite? Each recipe has a unique twist on the classic recipe.
But which one satisfies your cravings, the Indian samosa has a crispy pastry shell and spicy potato filling, or the East African sambusa with its flaky dough and meaty or vegetarian stuffing?
In today's article, describe both snacks & analyse their flavours, textures, and cultural significance. We will help you decide which one is the savoury sambosa vs samosa snack for your taste buds.
Ingredients used in Samosas and Sambusas
1  The ingredients used in samosas & sambusas vary relying on the region and personal requirements.
2 It is made from a combination of flour, water, salt, and oil, but the type of flour & oil used can differ.
3 For Indian samosas, all-purpose flour or a mix of wheat & all-purpose flour is used, while East African sambusas use a combination of wheat flour and all-purpose flour.
4 The filling for samosas and sambusas can be either vegetarian or non-vegetarian.
5 For vegetarian options, the filling is usually made from potatoes, peas, carrots, onions, & a blend of spices.
6 Non-vegetarian options can include ground beef, lamb, chicken, or fish, along with onions, garlic, & a mix of spices.
7 The spices used in samosas & sambusas are what give them their distinct flavour profiles.
8 Indian samosas use a blend of spices such as garam masala, cumin, coriander, and turmeric, while East African sambusas' often use a combination of cardamom, cinnamon, cloves, and cumin.
The Difference between Sambusa vs Samosa
1  Samosa and sambusas have many similarities but there are many differences in both of the snacks.
2  Samosas usually have a thicker shell and are made with all-purpose flour.
 3 On the other hand, sambusas have a thinner and crispy shell that is made with wheat or semolina flour.
 4 Samosas are larger than sambusas. Samosa can be served as a meal while sambusas are usually served as a snack or appetizer.
5 One of the main differences is filling both snacks are typically filled with spiced meat or vegetables, the spices used in samosas tend to be milder & more aromatic, While sambusas often have a spicier, more pungent flavour.
 6 We can eat samosas with chutneys or sauces on the other hand sambusas are typically eaten as it is.
The Popularity of Sambusa vs Samosa Around the World
1  Both Samosas and sambusas are famous snacks around the world. In recent times both samosas and sambusas have also gained popularity.
2 In India, samosas are a famous street food & it is one of the most common menus in Indian restaurants.
3 While 'Sambusas are similarly popular in East Africa & sold by street vendors.
4  Both the dish is served at special events such as weddings and festivals.
How to Make Samosas and Sambusas:
If you want to learn how to make Samosas & Sambusas then follow the guidelines below:
Samosa Procedure:
1 First we must make the pastry dough using all-purpose flour, water, and a pinch of salt. Knead out the dough with your hands till smooth dough forms and then make thin circles and cut each circle in half.
2  Then fill each half-circle with filling & then fold it and form a triangle-shaped pocket.
3  Now seal the edges you can add little water to seal the edges and deep-fry it till it turns golden brown.
what is sambusa/

Sambusas Procedure:
1 For Sambusas procedure, 'firstly we have to make the dough using wheat or semolina flour, water, and a pinch of salt and knead the dough till smooth dough forms and then roll out the dough into thin circles & then cut it into half.
2 Fill each half-circle with your favourite filling and then fold and make a triangle-shaped pocket. Seal the edges with a little water and deep-fry until crispy.
Final Thoughts:
In the end, both snacks are delicious and give a tasty combination of flavours and textures. So try making your version at home or seek out the best samosas and sambusas in your area. Your taste buds will thank you. These snacks are a true comfort food that is beloved around the world.
Archives
Categories
Recent Posts