Baked beef empanadas are loved by non-vegetarians. These delectable delicacies are excellent to have as a side course as well as a fulfilling snack. The keto baked beef empanadas are a ketogenic version of the classic baked beef empanadas.



Ingredients required 
Total Servings – 12
Prep Time – 15 to 20 minutes
Cooking Time – 20 to 25 minutes
Dough:
● 85 grams cream cheese
● 1½ cups mozzarella cheese
● 1¼ cups almond flour
● 1 egg
Filling:
● 454 grams ground beef (tender)
● 1-2 tablespoons olive oil
● 1 teaspoon chili powder
● 1 teaspoon cumin
● 1 teaspoon paprika (smoked)
● 1/2 cup chopped onion
● 1/3 cup salsa (of your liking)
● 1/4 cup green olives (chopped)



How to Prepare Keto Baked Beef Empanadas
Filling:
1 – Set the oven to 425 0 F.
2 – Place a saucepan over medium-high flame and add olive oil to it. Saute onions in it.
3 – Now, add the ground beef to the saucepan while breaking it to several smaller pieces using a spatula. Add chili powder, cumin, and paprika. Keep cooking until the mixture turns brown.
4 – Add a salsa of your choice and green olives. Set the saucepan aside.
Dough:
1 – Mix cream cheese and mozzarella in a microwave-safe bowl. Microwave the same  for about a minute. Stir thoroughly.
2 – Add egg to the cheese mixture and mix well. Now, add the almond flour and mix again to form a dough.
3 – Prepare a flat dough with ¼-inch of thickness. Carve several circles out of it.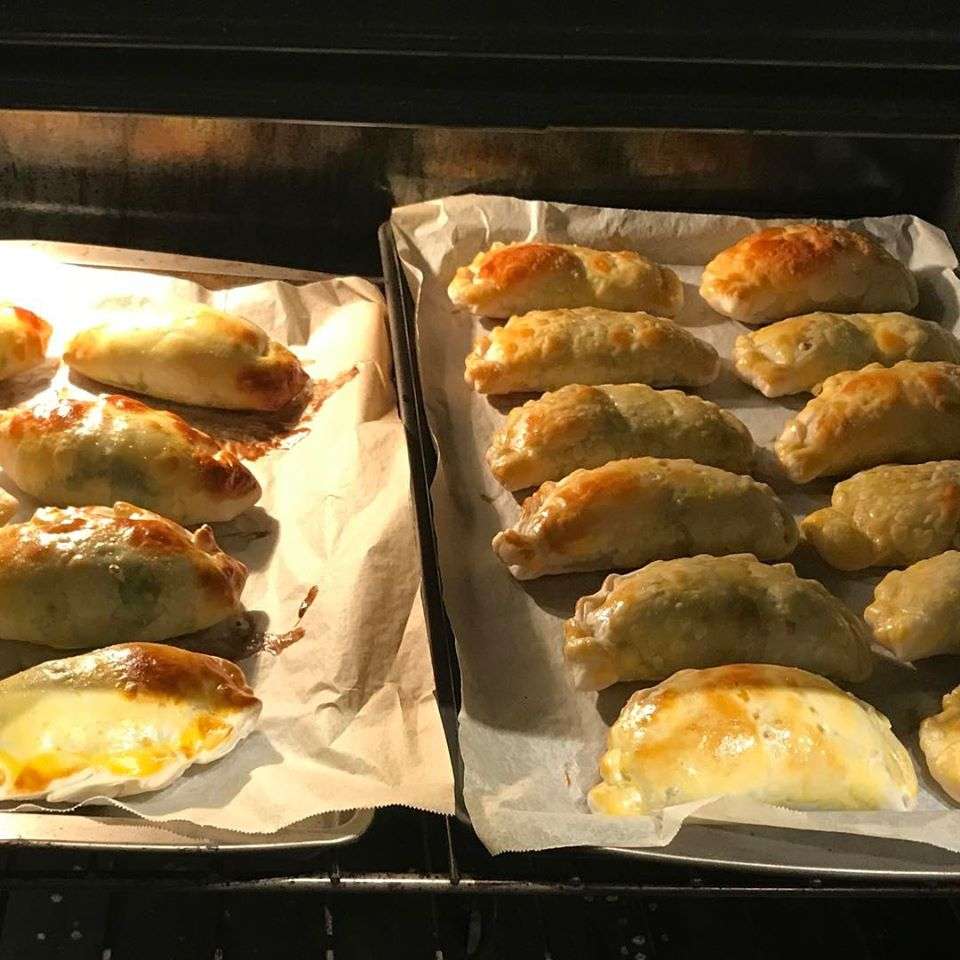 lt="Keto Baked Beef Empanadas" width="960″ height="960″ />
Cooking:
1 – Grease a parchment paper and place the circles on the same.
2 – Equally distribute the beef mixture on one side of the circles. Use the remaining side to fold over. Press lightly on the loose ends to seal. Slightly roll the edges.
3 – Place the empanadas in the oven and bake for about 12 minutes or until they start turning golden-brown.
4 – Remove the baked beef empanadas from the oven and set aside. Serve hot or at normal room temperature.
Note:
● If the dough is too sticky, then:
○ Add a little more of the almond flour, or
○ Put the dough in the refrigerator or freezer for about 15 minutes prior to using,
or
○ Rub your hands with some low-fat oil prior to using the dough.
● Instead of parchment paper, you can also use a cooking sheet or a silicone baking mat.
● Roll all the remaining dough cut-offs to form more circles.



Nutritional Information for Keto Baked Beef Empanadas
Energy – 406 kcal
Carbohydrates – 4 grams
Fat – 35 grams
Fiber – 3 grams
Protein – 26 grams