Delicious Keto Recipes for a healthy lifestyle
Low Carb Chicken Parm Meatball,100% Easy Home Recipe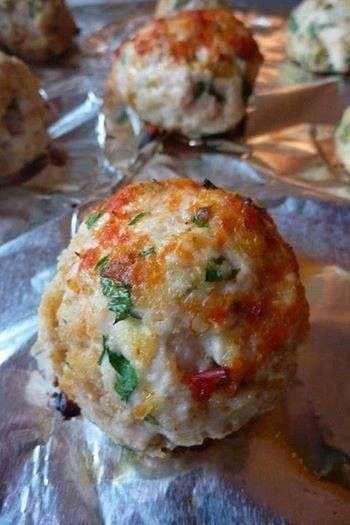 Low Carb Chicken Parm Meatball. I have decided to make the Keto Chicken Parmesan Meatballs tonight and you cannot believe it turned out well.
Weight Loss Recipe: Can We Eat Moong Dal On A Keto Diet? Sprouted Moong Dal Recipe
I have made these twice a week, the family loved them. Got a craving for some comfort food? I cannot wait to try them.
https://www.youtube.com/channel/UCiGYsZu4I7g_L-2FxLMj_Ug
This is our YouTube channel link. If you like our recipes on our YouTube channel, please like, share, comment and subscribe to our channel.
   Ingredients required for Low Carb Chicken Parm Meatballs:
1 lb. ground chicken

1/2 cup almond meal/flour



1 egg
1/3 cup parmesan cheese
1 tablespoon chopped fresh basil
1/2 teaspoon garlic powder
Low Carb: Keto Cauliflower Upma, Easy Indian Traditional Recipe
FOR THE SAUCE: Low Carb Chicken Parm Meatballs
2 teaspoons olive oil

3 cloves garlic, minced
1 28 oz. can crushed tomatoes



1 tablespoon chopped fresh basil
1/2 teaspoon salt
How to prepare Keto Chicken Parmesan Meatballs
1    Firstly we have to preheat our oven to 425 degrees.

2    To make the meatballs take a large bowl and add the chicken, almond meal, egg, parmesan, basil, and garlic powder and mix well till well combined.

3    Take a baking sheet and add parchment paper to it and grease it with melted butter and form one-inch meatballs on it and bake it for 10 minutes or till it is cooked well.



4    Take a large saucepan and add olive oil to it.
5    When heated up the oil add garlic and cook it for 1 minute.
6   Then add crushed tomatoes, basil and salt to it.

7   Cook it on low flame for 10 minutes.

8    Then put cooked meatballs in the sauce and enjoy!
Healthy recipe: Pizza Hut Low Carb Drumsticks, Easy Best Home Chicken
Nutritional Information for Low-Carb chicken parm meatball:
Calories: 250kcal, Carbohydrates: 12g, Protein: 20g, Fat: 14g, 



Saturated fat: 3g,  Cholesterol: 96mg,  Sodium: 513mg, 

Potassium: 798mg,  Fiber: 3g,  Sugar: 6g,  Vitamin a: 365 IU,
 Vitamin c: 12.6mg,  Calcium: 142mg, Iron: 2.9mg
Archives
Categories
Recent Posts